Ideal Collaborative Robot Welding Package for First-Timers
ABB Robotics and Lincoln Electric have co-developed a robotic Gas Metal Arc Welding (GMAW) Package featuring an ABB GoFa™ CRB 15000 collaborative robot and Lincoln welding equipment.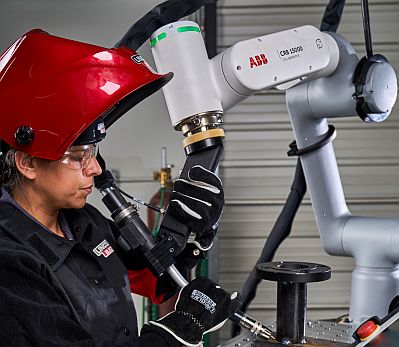 Features and Benefits
ABB and Lincoln have collaborated on developing proprietary software that makes the robotic welding cell incredibly easy to program and set welding parameters.
The software features built-in welding libraries where all a user needs to do is put in the material type and material thickness and move the robot to the beginning and end of the weld. All the welding parameters and travel speed of the robot are then set, and upon pushing a button the robot is ready to weld.
Learning how to operate the welding package typically takes less than an hour, and a user can weld with the equipment the same day that it arrives.
Target End Users and Weldment Types
Small to medium size enterprises, fabricating shops and first time users of robotic welding equipment. This includes any general industry fabricator from agriculture to aerospace, to industrial machinery, to defense, to yellow good manufactures, and many more.
The new robotic welding cell is easy to change from part to part and is well suited for both low volume, high mix and high volume, low mix operations.
The robotic welding packaging can be purchased in the United States from Lincoln Electric.
Want more information? Click below.
Copyright © 2023 by Nelson Publishing, Inc. All rights reserved. Reproduction Prohibited.
View our terms of use and
privacy policy