In-House Desktop Waterjet Cuts Lead Times and Reduces Supply Chain Delays
Nisan Lerea is the Co-Founder and CEO of WAZER and an inventor of the world's first desktop waterjet cutter. The mechanical engineer spent many hours in a machine shop, where he grew tired of facing the need to outsource and the undesirable lead times that came with it. So, as he writes for MAN, he invented a machine that many shops could use to overcome their reliance on outsourcing and get ahead of the disrupted supply chain.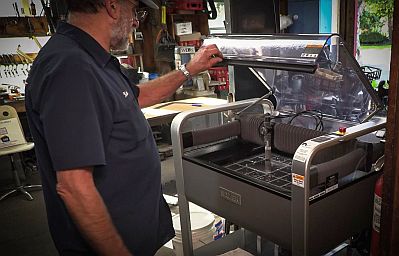 Iteration and time to part become a non-issue with Wazer's Desktop Waterjet cutting machine.
Anyone that works in new product development and uses outsourced suppliers is no stranger to undesirable lead times. It not only hinders business, but it can end up costing far too much money in the process. Engineers end up having to wait two to three weeks for custom outsourced parts, and a near broken supply chain often translates to extended wait times. These hidden costs and delays make it difficult to predict total expenses and ultimately cause inefficiency in operations.
Overcoming Outsourcing Hurdles
The constant stresses caused by outsourcing have led many manufacturers and engineers to reconsider their options.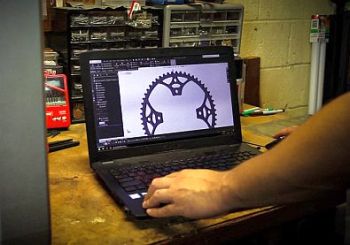 Easily go from CAD design to prototype without leaving the shop.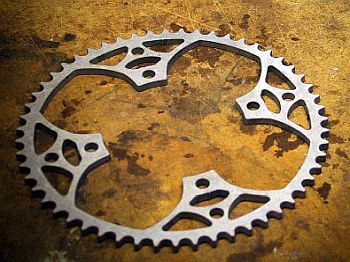 The ideal route would be one that would allow them to be less reliant on outsourcing so that they can eliminate the excess cost and efficiency problems that come along with it. Engineers must be able to access the parts they need when they need them. If not readily available, the piece or part must be custom built.
The issue is most manufacturers don't have the capability to create the piece they need in-house. Whether too expensive or too large, the tools needed to fabricate custom parts have been widely unavailable -- until now. Engineers can mitigate the difficulties of outsourcing by introducing small-format subtractive tools into their place of work.
By having subtractive manufacturing tools like a desktop waterjet cutter in-house, engineers have access to a machine capable of cutting through nearly any material needed right then and there. Utilizing high-pressure water and abrasive particles, waterjet cutters can cut through rubber, composites, plastic and even sheet metal. For engineers, having this tool at their disposal, 24/7, will give them the utmost support they need to get a slew of jobs done swiftly.

VIDEO: Meet Wazer
The Prototyping Phase
Iteration cycles are crucial to any prototyping process: designing, building, testing, and evaluating. If, for example, a bicycle manufacturer needs to prototype a sprocket, there are several challenges that arise when outsourcing. From delayed production time to loss of creative control, the bike manufacturer will always have pains when outsourcing. Furthermore, making one single sprocket for a bicycle manufacturer might be low on a fabrication shop's list of priorities.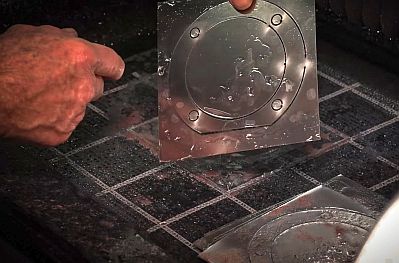 Downtime is reduced dramatically by creating repair parts in-house.
If the bicycle manufacturer had a subtractive tool like a waterjet cutter in-house, they could eliminate the outsourcing process entirely. When the bicycle manufacturer keeps prototyping in-house, they can quickly perform tests and implement changes where needed.
Repairs and Maintenance
Engineers and manufacturers often must perform repairs or maintenance on their machines. When doing so, they are likely to face hurdles when outsourcing sheet metal parts with a specific thickness, material, and profile. Instead of using a handheld power tool such as an angle grinder, small footprint CNC tools give manufacturers the ability to cut sheet metal or any other material they need to keep things moving smoothly. With the implementation of a CNC machine, manufacturers can eliminate lead times by making an exact replica of the replacement part they need.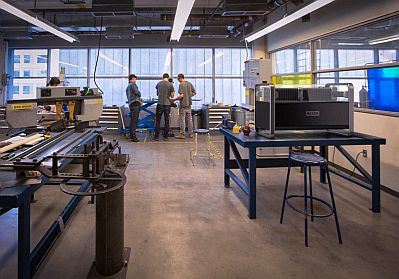 The waterjet is a small footprint in the shop but a large footprint for your business.
Take, for example, if someone is repairing a gearbox of an old lathe. The process necessitates bearings to be shimmed to ensure all internal components fit together as planned. When those shims are made from tool steel, it is a difficult task to cut, and it requires specific customizations. It's impractical for industrial equipment repair shops to take on a project like this. Instead, with access to an in-house tool like a waterjet cutter that can cut shims on demand, in any fashion, with complete accuracy. This will save them the hassle of outsourcing, therefore saving them precious time.
Efficiency for Any-Sized Company
In the past, access to a waterjet cutting machine was largely limited to major industrial companies, strictly due to the size and expense, but that's not the case anymore. WAZER has created an affordable desktop-sized waterjet cutter that's the first of its kind. Now, any size company can eliminate the need to outsource its projects. Engineers can now use this cutting-edge technology easily and affordably, giving themselves the freedom to execute projects on their terms, in-house.
Want more information? Click below.