Tool Caddy: Practical, Safe and Convenient Tool Storage Rack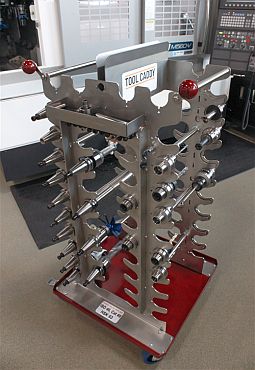 Tool Caddy™ is a compact storage solution for assembled CNC tooling. The narrow stainless-steel rack features up to 82 locking, horizontal pockets for CAT 40 or HSK 63 tool holders.
The horizontal arrangement of the tool pockets greatly improves machinist safety.
Traditional tool racks and carts keep tools in a vertical position with the cutter tip pointing up. This creates a risk of injury for operators when they need to reach over sharp edges to access other tools in the middle or back of the cart. The Tool Caddy design makes it easy and convenient for the operator to grab each toolholder without any risk of cuts, and it uses only about 4 square feet of floor space.
Each tool pocket is slightly angled to safely support the tool while allowing coolant to run off the tool tip and collect in the integrated drip pan. This further improves safety by keeping fluid spills off the shop floor.
Tool Caddy is practical and convenient for tool storage next to the machine, by the pre-setter, or for organizing special tool sets. It is available for all major spindle interfaces including CAT 50, HSK 100, BT and Capto.
Want more information? Click below.
Copyright © 2023 by Nelson Publishing, Inc. All rights reserved. Reproduction Prohibited.
View our terms of use and
privacy policy