Stabilizer System Holds Workpiece Without Drilling or Tapping into Part
Blue Photon has designed a system using patented workholding grippers and insert components for use with Big Daishowa and other stabilizer systems.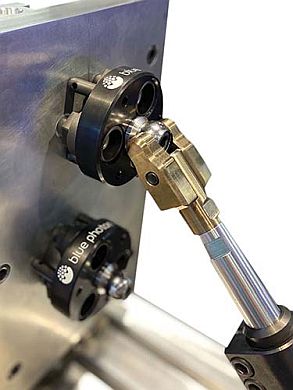 The wokholding stabilizer system holds the workpiece without drilling and tapping into the part or with the need to clamp the part. The unit is easily adjustable when positioning to grip the part wherever needed to stabilize the workpiece.
The system allows for the transfer of loads to the machine table and base. The new Blue Photon stabilizer puck simplifies how parts are loaded, reducing scrap, allowing for faster feedrates and increasing spindle uptime.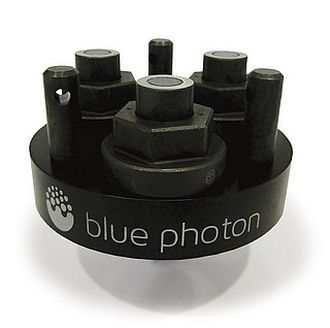 Blue Photon's puck stabilizes the workpiece with its patented grippers inserted into the external fixed inserts. Simply place the puck onto the part where support is needed, turn on the UV light from the Blue Photon controller and the puck will be attached to the workpiece to support it during machining in 60 seconds, without modify the part by adding unnecessary clamping geometry.
The support system is comprised of the Blue Photon puck, adjustable stabilizer arm and base mount. There are multiple base mount options available, T-slot, threaded hole and even a magnetic mount.
Want more information? Click below.
Copyright © 2023 by Nelson Publishing, Inc. All rights reserved. Reproduction Prohibited.
View our terms of use and
privacy policy