Dielectric Hydraulic Fluid Ideal for Air Compressors, Gear Pumps, Scissor Lifts, and More
Renewable Lubricants has introduced patented Bio-Ultimax™ 1500 Dielectric Hydraulic Fluids for power utility aerial buckets, scissor lifts, towable air compressors, and other stationary or mobile utility equipment where high dielectric (>35 kV) insulating properties are desired.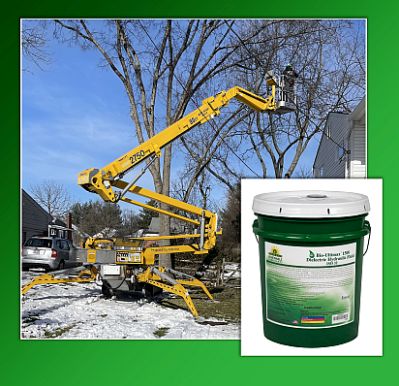 Available in ISO 22, 32, 46, and 68 weight formulas that meet or exceed ASTM D877 specifications, they perform well in low- and high-pressure hydraulic systems that require Anti-Wear (AW), anti-rust, anti-oxidation, anti-foam, and demulisibility properties.
These readily biodegradable biosynthetic formulas have oxidation performance comparable to full synthetics, yet they are safe for employees and the environment, so they help companies achieve their sustainability goals.
Bio-Ultimax™ super high Viscosity Index (VI) fluids are proven in systems up to 10,000 psi and in systems with ultra-fine filtration. Available in 1- and 5-gallon pails, drums, totes, and in bulk, they are ideal for use in all types of hydraulic systems where dielectric properties are desired, including utility bucket trucks, scissor lifts, towable air compressors, hydraulic vane, piston and gear-type pumps, and more.
With a higher VI than synthetics (Energy Conserving Formulas), Bio-Ultimax™ 1500 has improved thermal shear stability and increased load capacity. Their extremely low volatility increases the flash and fire safety features, making them safer to use.
A direct replacement for mineral oil based hydraulic fluids, Bio-Ultimax™ is ideal for hydraulic systems where low toxicity, biodegradability, and non-bioaccumulation properties are required.
Want more information? Click below.