Mechanical Sealing Device Stops Leaks in 20 Seconds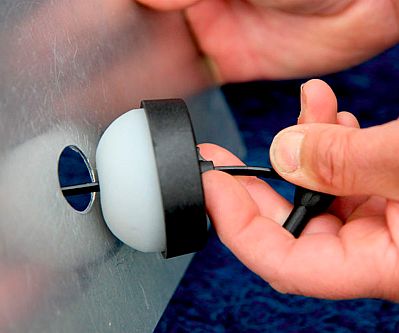 DENIOS-US introduces the RuptureSeal™ family of leak stopping devices which are easily deployed in seconds to form a secure mechanical seal that stops leaks for hours.
This unique technology is fully functional in just 20 seconds -- far faster, and cleaner than any other method including wooden bungs or screw plugs. This fast deployment time is crucial to reduce environmental impact and cleanup costs.
RuptureSeal™ products are available in four sizes and are compatible with over 40,000 substances. With full fuel and chemical compatibility, and an operating range of -16°F (-50°C) to 122°F (50°C), they are ideal for use in chemical and pharmaceutical facilities, oil and gas production, food processing, service stations, waste management, railway and transportation, and more.
Using newly patented technology, RuptureSeal™ can safely close breaches, minimize damage, protect the environment, safeguard employees, avoid potentially thousands of dollars in spill mitigation, and more.
Deployment of this industrial grade leak sealant is fast and easy, with no additional tools required. Simply compress the silicone pad into the rupture, pull back easily on the handle, and the seal is mechanically fastened in place -- even on rough, unclean, and splintered surfaces.
RuptureSeal™ provides protection for up to 10 hours until a permanent fix can be made.
Want more information? Click below.