Swedish Auto Supplier Upgrades Press Line and Cuts Cycle Time 50%
AP&T halved PVI Esskå's cycle time by upgrading its press line. "We now have a reliable, future-proof solution that can compete with a brand-new press line," says Tomas Lidbacken, CEO of PVI Esskå.
PVI Esskå in Landeryd is a well-established sub-supplier to the Swedish automotive industry. With 60 employees, the company mainly manufactures chassis and body parts for heavy trucks.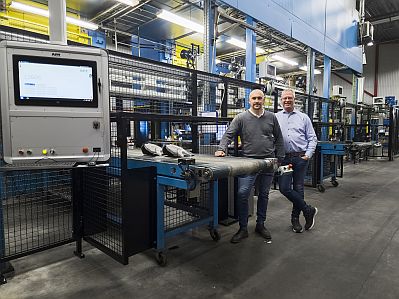 Successful collaboration: AP&T's Dan Barvö with Tomas Lidbacken, CEO of PVI Esskå.
Their relationship with AP&T stretches back to the 1980's. Through the years, a number of AP&T's hydraulic presses and production lines were installed in the PVI Esskå facility, pretty much all of which are still operational.
"The mechanical parts in our presses are practically immune to wear and tear, but the control system and other electronics eventually become outdated. To prevent unplanned downtime and ensure long-term spare part accessibility, we recommend that customers of older production lines look to see what can be improved," says Dan Barvö, Key Account Manager at AP&T.
High production capacity: The fully automated press line manufactures chassis and body parts for heavy trucks. The upgrade increased production capacity by about 500 hours/year.
And that's how the current upgrade came about in 2019. The fully automated production line that's been in operation since the year 2000, contains three 500-ton hydraulic presses and various linear robots.
"We looked over the state of the equipment and its performance and suggested measures that would minimize the risk of future production downtime as well as provide a more efficient process," says Barvö.

VIDEO: PVI Esskå in 2020
The recommendation presented to PVI Esskå included a rebuild of the line control systems and replacement of all its automation. It was a substantial investment, but far cheaper than purchasing an entirely new line.
The decision to proceed was made at the start of 2020.
"We felt very secure that we were making the right decision. A few years ago, AP&T did a similar rebuild of one of our other lines and the results thoroughly exceeded our expectations. With the investment we are now making, we are counting on being able to increase our production capacity by about 500 hours a year," says Tomas Lidbacken.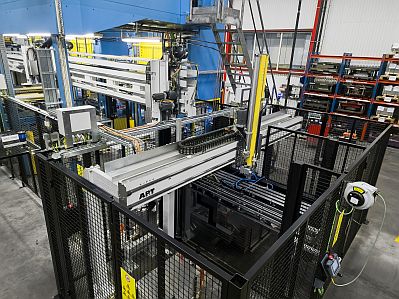 Halved cycle times: New control systems and automation equipment shortened cycle times by about 50%.
The investment reduced the line's cycle times by about 50%
The goal was to have all equipment in place by the end of the vacation period in the summer of 2022. The line was shut down at the beginning of July. About four weeks later, the installation was complete, and the upgraded line could be restarted.
"Everything went according to plan. We exchanged all control systems and operator panels and installed three new SpeedFeeders, an efficient destacker, safety fence, lubrication system and much more," says Barvö.
"The delivery and installation went entirely according to our agreed plan and without disruption. AP&T deserves a lot of credit," concludes a satisfied Tomas Lidbacken.
Want more information? Click below.