Suhner's New Robotic System Delivers Precise, Constant Force for Grinding, Sanding and Deburring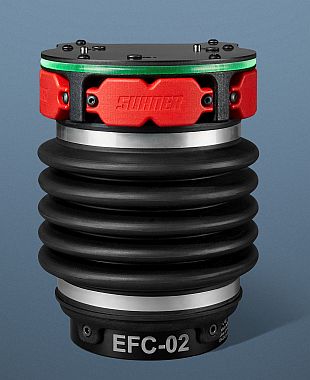 Recognizing the role robotics plays in adding efficiency and lowering production costs for manufacturers of all types and sizes, Suhner continues to expand its robotics offering. The new, fully electric EFC-02 delivers precise, constant force throughout robotic grinding, sanding and deburring processes -- resulting in superior, consistent surface quality.
Smart Automation for High Surface Quality Results
Exact contact force with the surface is the single most crucial factor in robotic grinding, sanding and deburring processes. It's also one of the biggest challenges, especially for hard-to-reach areas. Thoughtfully designed based on Suhner's decades of material removal process know-how, the EFC-02 helps overcome that challenge.

VIDEO: Transform grinding, polishing, sanding and deburring operations from manual to robotic.
As with any end-of-arm tooling, the EFC-02 connects a grinding machine -- angle grinders, orbital sanders, angle polishers, straight grinders and others -- to the robot. What makes Suhner's system unique, however, is its compact design and fully electric operation.
The lightest and smallest in its category, the EFC-02 can be used for material removal or surface finishing even in tight or narrow spaces often found when processing stainless tanks. The all-electric technology also allows high-frequency measurements to monitor force and acceleration throughout the process. An advanced control algorithm then dynamically adjusts force and automates grinding processes based on pre-programmed parameters.
The result? Constant contact force with each movement from start to finish for a consistent surface quality -- regardless of the surface type, shape, size or orientation.
In Line with Industry 4.0 Standards to Support Digital Transformation
Robotic processes are no longer just for mass production. As the technology has evolved, robotics have become easier to use and more flexible -- making them ideal for both small- and medium-sized manufacturers looking to add efficiency, lower production costs or both.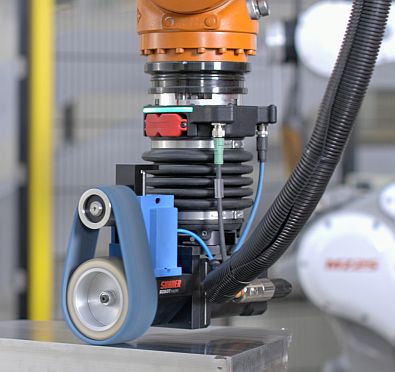 Suhner engineered the EFC-02 with this in mind, giving users:
Simple robot programming for setting up even complex processes using an intuitive web-based interface or Fieldbus communication. This includes defining target force, payload and stroke values.
Advanced functionality that is in line with the vision behind Industry 4.0. For instance, a visual LED indicator on the EFC-02 tells users whether the grinding wheel is in contact with the surface or not and when the stroke is at 50% to ensure maximum compensation, among other critical operational information. The EFC-02 even lets users know when maintenance is needed.
One Stop for Custom, End-to-End Solution
The end-of-arm EFC-02 active compliance system is fully compatible with Suhner's end effectors, including angle grinders, orbital sanders, angle polishers and straight grinders. Optional automatic changers for abrasives or belts, which integrate easily with the EFC-02, are also available.
By storing and dispensing new abrasives for pickup by a sander, these automatic changers effectively help speed processes and increase productivity.
Suhner also offers access to a comprehensive range of abrasives from all the industry's leading manufacturers.
The EFC-02's compact size, all-electric technology and simple programming make it possible to replicate and automate most grinding, polishing, sanding and deburring on a variety of surfaces. This gives manufacturers a cost-effective, low-maintenance solution for replacing many time-consuming and tedious manual processes -- saving time and money.
Want more information? Click below.