Multi-Material 3D Printer Perfect for Hybrid Components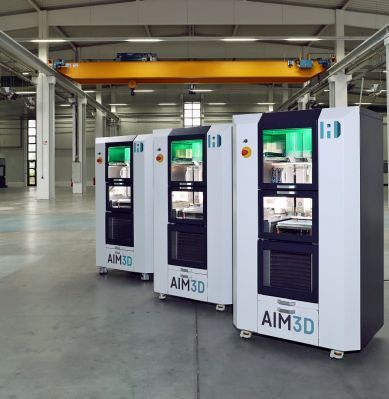 AIM3D's ExAM 255 multi-material 3D printer can be deployed for a variety of materials (metals, plastics, ceramics) and processes (hybrid components).
Compared to the powder bed process or other 3D printing processes that use filament materials, parts made with the CEM process can achieve tensile strengths which come close to conventional thermoplastic injection moulding methods. There are clear cost savings with 3D printing when commercial pellets are used instead of filaments. Thanks to the CEM process, cost savings of up to a factor of 10 can be realized with pellets.
High Precision 3D Printing
The accuracy of a 3D printer is paramount for processors.

VIDEO: AIM3D - ExAM 255
The ExAM 255 achieves accuracies of up to 25 µm, depending on the build speed. The degree of precision in the component results from the design of the machine: two granulate extruders work in the ExAM 255's build area, each are supplied with material via a separate feedstock. The build area itself measures 255 x 255 x 255 mm and can be passively heated up to 60°C. AIM3D specifies a build rate (with a 0.4 mm nozzle) of up to 40 cm³/h, depending on the material selected.
Multi-Material Spectrum Ensures High Degree of Flexibility
The flexibility of the printable materials plays a central role when deciding which machine to buy.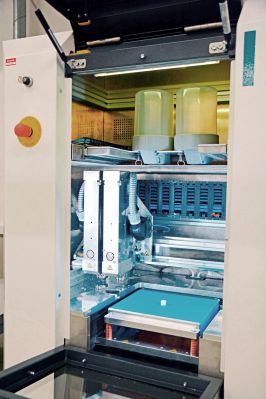 As a unique selling point, the ExAM 255 covers a very wide range of materials. This includes steel, titanium, non-ferrous metals and hard metals in the metals material group. In the case of plastics, the types of plastics in pellet form that can be printed are identical to those known from conventional processes. There are also ceramic applications.
In the ExAM 255, the feedstock is fed via material containers arranged in pairs above the ExAM 255's build area. This arrangement enables multi-component printing of polymers, but also combinations of metal, plastic or ceramics. The options offered by this system technology also enable a combination of processes with hybrid components. In this case, one component can be manufactured in a conventional way and a second component is printed. This results in many perfect solutions for almost every industrial application.
Want more information? Click below.