2-Piece Vise Now Enhanced with V-Jaws -- Perfect for Holding Shafts and Rounds
Phillips Precision has introduced the new V-Jaws for the Inspection Arsenal® Spanner-Vise™. The upgrade addresses the unique challenge of holding shafts and rounds for inspection.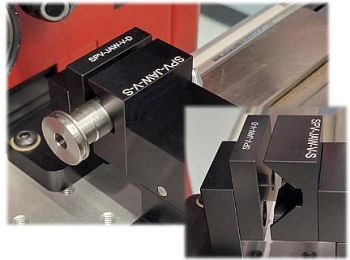 The new V-Jaws can be easily mounted to the Spanner-Vise™. The Spanner model is a two-piece vise that can infinitely adjust to accommodate most any size part. Aluminum Step-Jaws come standard with the vise, but Centers Jaws and now the new V-Jaws are also available to enhance this versatile tool even further.
The V-Jaws are specifically engineered to securely hold shafts and rounds ranging from .500" to 1.625" in diameter. This remarkable capability ensures compatibility with a wide variety of part sizes, making it an ideal choice for diverse inspection needs.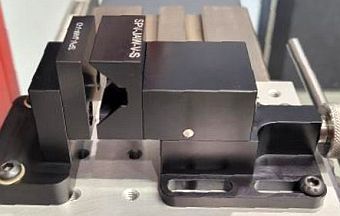 Made from 6061-T6 aluminum, the V-Jaws are also machinable so you can easily customize to various part geometries, ensuring optimal grip and stability during inspections.
Notable features of the Spanner-Vise™ V-Jaws include:
Superior Holding Capability: The V-Jaws provide a secure and stable grip on shafts and rounds in the .500" to 1.625" diameter range, ensuring precise and accurate measurements during inspections.
Machinable Aluminum Construction: Made from soft aluminum; the V-Jaws offer excellent machinability, enabling effortless modifications to adapt to different part geometries, thereby maximizing versatility.
Streamlined Integration: The V-Jaws seamlessly integrates with the Spanner-Vise™ and Spanner-Vise™ Versatile Assembly, enhancing its functionality and easily expanding the range of work holding options for inspectors.
VIDEO: Spanner-Vise™ with Sliding Plate
Want more information? Click below.
Copyright © 2023 by Nelson Publishing, Inc. All rights reserved. Reproduction Prohibited.
View our terms of use and
privacy policy