New Robotic Bending Cell Delivers 55 Tons of Pressing Force, "Art to Part" Production in 20 Minutes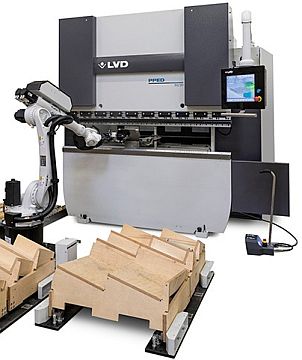 LVD introduces D-Cell -- a robotic bending cell.
D-Cell combines a 55-ton hydraulic press brake with Kuka robot and LVD's unique programming software.
At the heart of D-Cell is the versatile PPED press brake. It delivers 55 tons of pressing force, has a six-foot working length, four-axis backgauge, and handles part sizes from 1.4" x 3.9" up to 15.8" x 23.6" with a part weight of up to 8.8 lbs.
D-Cell features powerful automatic programming software for "art to part" production in 20 minutes or less. It generates the bending and robot program automatically in 10 minutes and then takes just 10 minutes for set-up and first part production. No robot teaching is needed.
A universal gripper designed by LVD handles different part sizes, bends up to three flanges without regripping and easily moves between tool stations.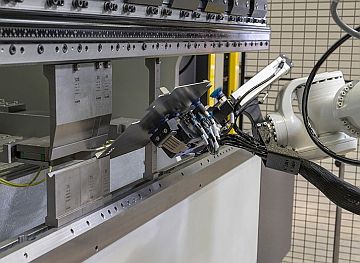 D-Cell is compact, requiring only 16 ft x 17 ft of floor space.
It offers the versatility to operate in manual mode.
Want more information? Click below.
Copyright © 2023 by Nelson Publishing, Inc. All rights reserved. Reproduction Prohibited.
View our terms of use and
privacy policy