Cycling Company Leads the Pack Thanks to 3D Printing
The cycling industry is particularly fast paced and innovative. At the highest competitive levels of both road and track cycling there is huge demand for innovation and improving the performance of bikes. Likewise, many retail customers and amateur cyclists want access to the same technologies that professional teams benefit from soon after launch. One UK cycling designer has turned to 3D printing to make that happen.
Historically bike designers have always worked around international standards and commonality of parts but over the past decade there's been a trend away from this, as brands search for better integration of systems, unique selling points and ever smaller marginal gains.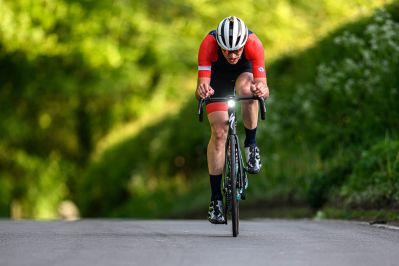 Over the last couple of decades, UK cycling has reached a pinnacle and garnered widespread coverage that has contributed to an increase in amateur cycling.
The result of all this is a bike industry that can barely keep up with demand and expectation with a wide range of opportunities. MagCAD Designs Ltd was founded and is run by Andrew Magnier, a former British National Track Champion and MEng Aerospace Engineer. This essentially means that Andrew has experience at the highest levels of cycling together with the technological skills and expertise to offer the highest quality of cycling products.
With this strong foundation of knowledge and expertise, MagCAD, based in Staffordshire in the UK, is able to consistently deliver innovative parts and products to its increasing customer base. MagCAD partners with 3DPRINTUK for production of these parts on demand, with the business continuing to experience tremendous growth. 3DPRINTUK spoke with Andrew recently to better understand how 3D printing enables MagCAD to thrive and grow as a business.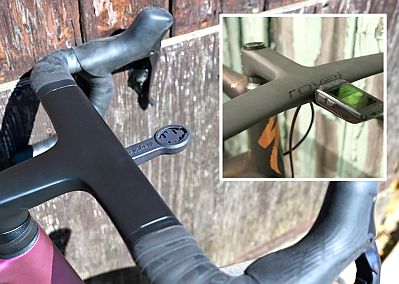 MagCAD predominantly utilizes the SLS 3D printing process from 3DPRINTUK. "The material and process offer a fantastic balance between strength and stiffness."
3D printing has proved to be a valuable and flexible tool for SMEs like MagCAD. It has been widely adopted as a product development tool for faster time-to-market. MagCAD does indeed use 3D printing in this way but has also adopted it for the production of parts.
Andrew Magnier explains how 3D printing processes support the MagCAD business model, rather than using alternative manufacturing processes: "The 3D printing process is fundamental to our business model. It allows us to react quickly to new opportunities. We can develop, test and validate components in a greatly accelerated timeline. For production, though, it reduces our upfront investment -- both in terms of time and cost -- compared with more traditional manufacturing methods. It also allows us far greater design freedom for creating complex geometries that are not then subsequently restricted by tooling and traditional manufacturing considerations."
MagCAD produces a range of parts and products for its clients.
"We will receive a design request from either a cyclist, cycling brand or bike shop," says Magnier. "Typically, these are requirements to attach smart devices; GPS computers, lights, cameras and so forth, to part of a bike such as the handlebars. We will always assess the feasibility of each request before making a commitment to develop parts. When we first started out, we would tackle most requests but as the business has grown, we have had to become far more selective as we now receive hundreds of design requests every week."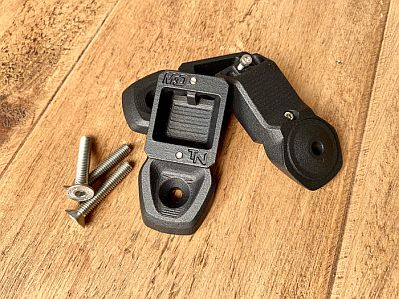 MagCAD Bosch Kiox E-Stem 300 Mount
"A good example would be our MagCAD Bosch Kiox E-Stem 300 Mount.. We recognized the stock computer mount supplied with the latest Bosch equipped e-bikes was a little basic and there was an opportunity to improve the setup. Together with the True North team we produced a mount that moved the Bosch display off the handlebar and onto the top of the stem, improving the aesthetics and reducing the impact of dirt and debris. The design has proved very popular with cyclists all over the world."
Since its inception three years ago, MagCAD has experienced significant growth and is on track to 3D print 9000+ parts this year, more than double last year's volume. The team typically prints individual parts in batches of 20–50, which helps them to manage their inventory efficiently. However, with a growing portfolio, which is now over 350 individual designs, it is important that they are able to scale up the batches to 100+ parts each order. Having 3DPRINTUK as their production partner, means that they can do this easily.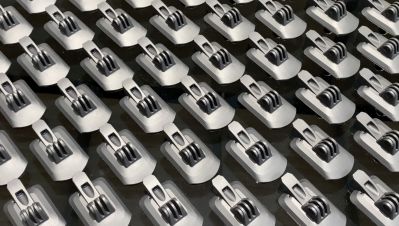 Quality control is essential to MagCAD and aligns very well with the values of 3DPRINTUK. "MagCAD has a number of processes in place to ensure the level of quality we maintain is particularly high and it's great to see 3DPRINTUK also prioritizes quality as much as we do."
MagCAD's expanding range of products directly benefit from being produced by 3D printing. Often, they are parts that could not have been produced any other way.
Magnier explains: "A number of our parts include complex locking interfaces and overhangs. Typically, these design details can't be produced in one single piece by injection moulding as the tooling required can't then release the formed part. We can also 3D print much thicker material."
He also identifies other key benefits for the company: "Overall the 3D printing process, and more specifically the industrial systems at 3DPRINTUK, allows us to simplify and optimize the design, reduce post manufacturing assembly processes and reduce time and costs. All of this benefits our customers as we can pass these time and cost savings on to them."
Want more information? Click below.