Robot Brings Clean, Automated Solution to Finishing AM Metal Parts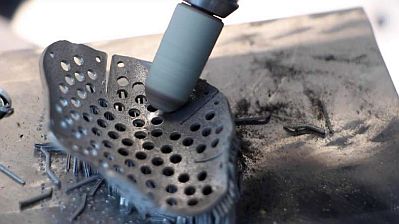 Today, for many metal additive manufacturing (AM) applications, the post processing of the parts remains a dirty, costly, time consuming, labor-intensive and often dangerous operation. The Rivelin Netshape® solutions offer a cleaner, more cost-effective, streamlined and automated approach for powder removal, support removal, and finishing.
Robert Bush, CEO at Rivelin comments, "Post processing metal AM parts, especially the complex ones (and let's face it, that's a dominant reason for using an additive process in the first place) invariably involves a number of dirty, manual tasks to remove excess powder, remove the part(s) from the essential base plate, or remove the intricate supports that complex geometries require, all before finishing the surface to the prescribed standard.

VIDEO: Post processing metal parts with Rivelin Netshape
These tasks are necessarily performed by skilled workers and as anyone working in this area past or present knows -- it's just not pretty, neither is it without risk, and manual post processing leads to part-to-part quality inconsistencies."
Rivelin's NetShape® Robots exists to overcome these challenges.
Bush continues, "Rivelin's Netshape® Robots offer a much cleaner approach for metal post processing and close the gap that exists in AM's digital process chain by removing manual finishing steps. Automation is the key, with 8-axis (6+2) robots driven by the advanced and intelligent Netshape® software, which not only automates the support removal and finishing steps, but also provides process data, reliability, consistency and traceability.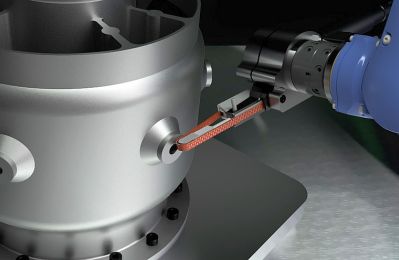 Bush concludes, "At Rivelin, we passionately believe that digital innovation and progress are not a threat to manual jobs in manufacturing; rather they offer a new paradigm focused on humans shaping ideas and technology crafting them. In this way we can promote safety, efficiency, and sustainability."
Want more information? Click below.