Easy-to-Use Cobot Welder Runs on a Simple App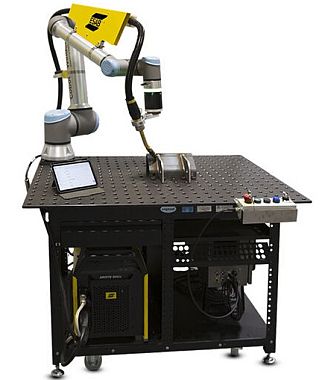 With the ESAB Cobot Welder, shops can manufacture more parts with existing resources, overcoming capacity constraints, labor shortages, and expensive overtime.
Even better, with Cobot, there's no complicated programming. Cobots are made for welders, not programmers, with app-based software that is simple and intuitive. You can get more done, all in a small footprint.
All you have to do is download the app right to an iOS or Android device from the Apple App Store or Google Play Store. It's cloud-based, so updates happen automatically -- without hassle.

VIDEO: ESAB Cobot: the smartphone-based welding robot
The app can:
Track production data in real-time and create charts
Share part data and weld procedures across multiple Cobots
Customize playlists to run different parts together in a sequence
Get notified when certain events happen, such as if there's a protective stop
Access help in minutes right in the app, as well as how-to videos and blogs
Take pictures and upload PDFs to store with a part for instructions and quality checks
This all combines to give you increased repeatability and uptime. And if you make a mistake? It's easy to undo. Plus, you can assign roles -- like viewer, operator, editor, and manager -- to each user, depending on their job.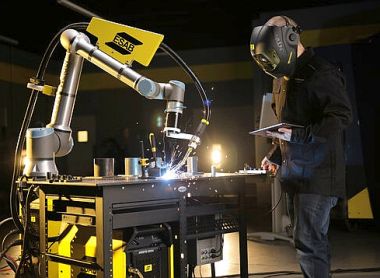 Other features include:
The best-quality UR arm
Cobot is built with the best-quality UR arm in the market. It's equipped with a built-in Smart Puck that communicates to your smartphone app, so you can visualize welds and store settings. This also offers lightweight and easy-to-change torch angle positions and even comes with safety sensors to prevent collisions.
Connectivity with your wire feeder
The RobustFeed Wire Feeder communicates directly with the Cobot smartphone app. You can set memories and change weld settings via the app or right on the wire feeder. It's also environmentally controlled and sealed with heating system that keeps moisture out, so spool wire is protected. Plus, its pulse-on-pulse and SuperPulse functionality make it hard for other welding robots to beat.
Heavy-duty industrial system
Cobot even comes with the Aristo 500ix -- ESAB's proven, robust, heavy-duty industrial system. It offers advanced pulse functionality that reduces heat input and minimizes spatter. It also delivers defect-free weld terminations with crater filling and adjustable burn back time and low amperage, short arc performance for welding a wider range of material thicknesses.
Cobot is an ideal solution for manufacturers with a high mix of low-volume parts and even fits into a small footprint with wheels to move around the shop floor.
Want more information? Click below.