Collaboration Gives Ohio Manufacturers Access to University Research and Latest Innovations
Jergens, Inc., one of the world's largest manufacturers of lifting, workholding and fastening solutions, recently hosted a Manufacturing Advocacy & Growth Network (MAGNET) meeting where a ground-breaking PRISM (Partnership for Regional Innovation Services to Manufacturers) initiative was signed that will specifically benefit small and medium sized Northeast Ohio-based manufacturers.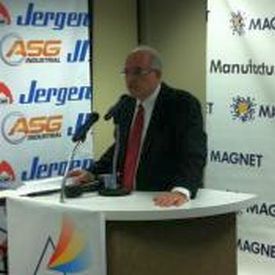 Magnet President Dan Berry announces the Prism Program, which combines Magnet's manufacturing advocacy with the technological expertise of 4 Northeast Ohio universities to help small and medium sized manufacturers.
Signed by Case Western Reserve University, Cleveland State University, Lorain County Community College and the University of Akron, the PRISM initiative is designed to help small to mid-sized manufacturers gain easier access to the research and technological capabilities, hard assets and world-class knowledge based at the four colleges and universities participating in this initiative.
The Manufacturing Advocacy & Growth Network's PRISM agreement commits these institutions to work cooperatively and jointly to further economic development in the region by helping area manufacturers pursue growth strategies through innovation.
Commenting on the scope of the collaborative agreement, Jack Schron, founder and CEO of Jergens Inc. stated, "The regional impact of this PRISM initiative will unquestionably play a major role in stimulating long term growth among small and medium-size companies. The collaborative resources and energies of the fine institutions who have committed to the PRISM initiative, represents a collaborative force will help position Northeast Ohio as one of North America's preeminent manufacturing centers of innovation and excellence."
Want more information? Click below.
Copyright © 2020 by Nelson Publishing, Inc. All rights reserved. Reproduction Prohibited.
View our terms of use and
privacy policy