New Agreement Provides Technology Infusion for Small and Medium Sized Shops
Sodick, Inc. and the Connecticut Center for Advanced Technology, Inc. (CCAT) announce an agreement to develop and showcase manufacturing concepts and methods that will benefit manufacturers.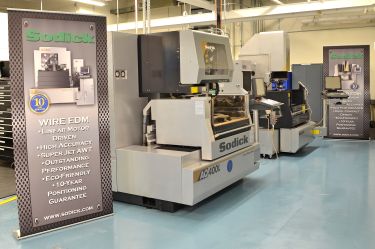 The collaboration supports CCAT's efforts to provide technology infusion for small and medium-sized manufacturers with the addition of two Sodick EDM (electrical discharge machining) machines to its Advanced Manufacturing Center (AMC) located in East Hartford, Connecticut. Sodick will help companies adopt EDM in their shops and facilitate the use of new mainstream manufacturing techniques.
"CCAT's goal is to help manufacturers be more competitive and this collaboration exemplifies that effort," stated Elliot Ginsberg, CCAT president and CEO.
"With the addition of the Sodick Wire and Sinker EDM machines to the AMC, companies in the regional aerospace supply chain, which includes nearly 1,000 manufacturers in Connecticut alone, will have the unique opportunity to use this advanced technology in the production of aerospace components and other applications, which cannot be produced by standard machining methods."
"Sodick is excited to work with CCAT," stated Alex Ogozarek, Sodick Regional Sales Manager. "CCAT can now offer EDM technology as part of their capabilities and Sodick will be able to showcase their machines at the CCAT Advanced Manufacturing Center facility."
Want more information? Click below.
Copyright © 2020 by Nelson Publishing, Inc. All rights reserved. Reproduction Prohibited.
View our terms of use and
privacy policy