New Line of Insert Grades Ideal for Small Shops Doing Mixed-Batch Production
Sandvik's X-line turning family offers a new range of versatile insert grades and geometries, designed specifically for small- to medium-sized companies doing mixed-batch production. This provides a simplified choice for busy shop owners working with multiple materials and varied cutting conditions. Benefits include secure and predictable cutting regardless of material, condition, application, or programming.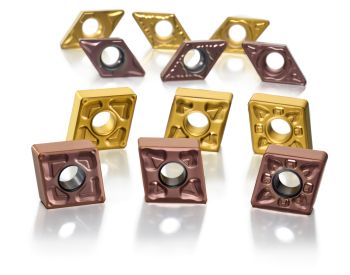 The X-line turning family is designed to deliver reliable, trouble-free machining, high flexibility, reduced set-up time, and minimized insert inventory. It is suitable for application in steels, stainless steels, heat-resistant super alloys, cast irons, titanium, and non-ferrous materials. X-line turning is tough and secure for predictable performance; suitable for universal applications, from finishing to roughing operations; versatile for multi-material functionality; and long-lasting for maximum tool life and performance.
Three new geometries are available, and each has a large overlap with the others to cover a wide application area.
The XF-geometry is designed for light-cutting action and long tool life in finishing applications. The edge line strength of the insert also allows for medium machining. The XM-geometry delivers a sharp cutting edge and strong corners for high feed and boring applications. The edge rounding makes it most productive in medium rough to finish cuts. And finally, the XMR-geometry delivers a reinforced cutting edge and large contact surfaces for secure and stable machining in medium- to rough- cuts and tougher conditions.
Two grades have been developed specifically for multi-material functionality in mixed production. Grade GC30 offers optimum performance in steel and materials that require high flank-wear resistance. It has a high bulk toughness with a gradient cemented carbide substrate and a wear-resistant CVD coating. Grade GC15 offers top performance in stainless, super alloys, and materials with a high demand of edge-line toughness. It combines a high strength micro-grain cemented carbide with a thin, PVD-coating for additional edge strength.
Want more information? Click below.
Copyright © 2020 by Nelson Publishing, Inc. All rights reserved. Reproduction Prohibited.
View our terms of use and
privacy policy