New Hyundai WIA CNC Multitasking Turning Center Ideal for Small to Medium Sized Job Shops
Hyundai WIA announces an all-new Series of CNC multitasking turning centers, the L2100Y/SY, developed with a wedge-type Y-axis and BMT 65 (VDI 140) turret for completing complex milling and turning operations in a single setup. The synchronized 8" main spindle and 6" sub spindle (S-configured machines) enable high precision turning of both front and back of cylindrical parts. Swing over the bed: 630 mm. Swing over the carriage: 300 mm. Maximum turning diameter: 335 mm. Maximum turning length: 468 mm (455 mm for SY).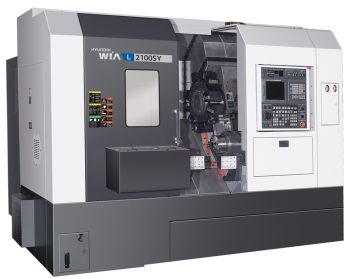 Bed Structure
The critical structural components of Hyundai WIA's new L2100Y/SY multitasking turning centers are designed using finite element analysis (FEA) to ensure powerful cutting and agility and are composed of meehanite cast iron to minimize deformation when performing heavy-duty cuts. The rigid bed is designed to absorb vibration for stable machining. In order to eliminate thermal growth during machining, all axes are driven by high precision double-nut ballscrews. The double pretension design provides outstanding positioning and repeatability with virtually no thermal growth. All ballscrews are connected directly to the servo drive motors without gears or belts, eliminating backlash.
Guideways
Precision axis movement with heavy loads is achieved by the use of hardened and ground wide box guide ways in all three axes. The wedge-type Y-axis design offers superior positional accuracy and is easy to program, which ensures increased productivity. X- and Y-axis travels are 8.3"/3.9" (210/100 mm); Z-axis travel is 22.8"/19.7" (580/500 mm). Rapid traverse: 709 ipm (18/12 m/min) in X- and Y-axis and 945 ipm (24/24 m/min) in Z-axis.
Main Spindle
The L2100Y/SY is configured with a 4,500 rpm main spindle. The gearless 8" spindle has been designed for high-precision applications with features that ensure minimal thermal growth at high speeds or under heavy cutting loads. Furthermore, by enlarging the spindle's diameter and thickness and using only ultra precision class angular bearings, high speed accel/decel is achieved for smooth machining at high rpm's. The main spindle delivers minimal noise and vibration even at the highest cutting speeds, guaranteeing extremely stable machining and minimizing thermal transmission to the main spindle. This contributes to improved durability and provides a high quality surface finish on every completed part.
Sub Spindle
The 6" sub spindle with C-axis offers 0.001 degree indexing and is driven by the B-axis ballscrew and servomotor to ensure high precision and accuracy. Movement of the workpiece between the two spindles is performed in the rotating state by a synchronized control to reduce cycle times and increase productivity. Main and sub spindles are controlled with the C-axis. Contour machining with the C-axis is also possible, enabling the user to machine outer shapes and pockets, of complex parts, using live tools and the Y-axis.
Turret
Hyundai WIA's L2100Y/SY turning centers are outfitted with a large 12-station BMT turret enabling the L2100Y/SY Series multitasking machines to perform high accuracy milling operations in a single setup. A high torque servomotor drives the BMT turret with a 0.4 sec indexing time in either direction. The latest generation BMT top plate increases tool performance and rigidity by securing each tool with four screws. Overall cutting power and capability have been improved for all applications, including milling, drilling and tapping. Machining capabilities have been increased with the addition of a Straight milling head, which removes material from the side of the workpiece, and an Angular milling head, which allows ID operations.
Control
The all new L2100Y/SY Series is easy to program and operate with its start-of-the-art Fanuc 32i-A Series CNC control featuring a 10.4" color LCD with Manual Guide i. As the industry's most popular control, Fanuc offers compatibility and bulletproof reliability. The all-new L2100Y/SY Series from Hyundai WIA is ideal for small to medium sized job shops, yet capable enough to handle high production environments that run 24/7. By bundling so many high-performance features in a CNC multitasking turning center, there's nothing to sacrifice or compromise.
Want more information? Click below.