New High-Performance Forming Tap Lasts 4 Times Longer While Producing Threads Within Both 2B and 3B Classes of Fit
Emuge Corp., a leader in tapping technology for more than 90 years, has announced the introduction of MultiTAP™-Form, the industry's first high performance forming tap designed to deliver exceptional performance increases in a wide range of materials including carbon steel, steel alloys, stainless steel, aluminum, copper, brass, and bronze.
In lab tests, MultiTAP-Form demonstrated four times the life compared to a leading brand form tap. MultiTAP-Form is also uniquely designed to produce threads within both 2B and 3B classes of fit, eliminating the guesswork of calculating H-limits.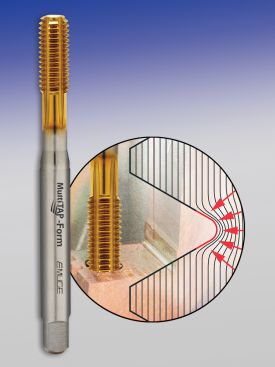 "MultiTAP-Form will significantly improve thread quality and boost output while reducing production costs," said Mr. Peter Matysiak, President of Emuge Corp. "One high performance MultiTAP-Form will handle most common materials and applications. MultiTAP-Form also eliminates the need to stock numerous types of taps that are suitable for forming applications," added Matysiak.
MultiTAP-Form features a new innovative geometric design, a proprietary grade of high speed steel (HSS-E) and is TiN coated for exceptionally long life and versatility. A short chamfer lead of 1.5 -- 2 Pitch is ideal for bottom tapping, and lubrication grooves allow coolant flow-to-form action for holes requiring long thread length.
The forming of threads offers many advantages over conventional thread cutting. A formed thread is one where the material has been displaced instead of cut, which provides excellent thread surface quality and increased static and dynamic strength of the thread. Additional benefits include eliminating the risk of poor threads due to axial "miscutting" and the ability to increase tapping speeds.
"Our MultiTAP line is the result of collective years of Emuge's extensive tapping expertise, application research and a challenge the company issued to its engineers to design a multi-purpose tap. Emuge design engineers responded by choosing a select base material, along with special geometry and surface treatment that would work in as many common materials and applications as possible," stated Matysiak.
All MultiTAP-Form Taps are made with Emuge's trademark long shanks which are DIN length, designed for extra reach. Tap sizes include a range for UNC or UNF threads, from #4-40 to 3/8-24 inch sizes, to metric sizes from M4 x 0.7 to M10 x 1.5.
Want more information? Click below.