New 12mm Inserts Enable Heavier Cuts Using Smaller Diameter Cutters
Dapra Corporation has introduced 12mm Cutter Bodies and Inserts to its line of 90 degree Square Shoulder precision mills. Machined from double-hardened tool steel to minimize runout and maximize strength, these cutters are designed with a fine pitch for faster feed rates and a smoother cutting action that generates less noise and pressure.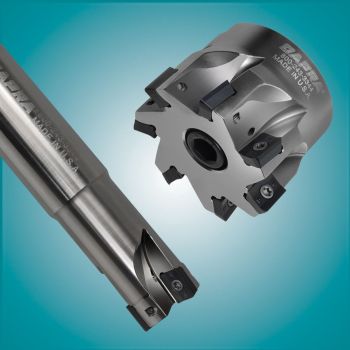 This particular precision cutter and insert combination provides longer tool life and improved productivity, especially on lighter-duty machines. End Mills are available in cutting diameters from 0.625" to 1.500". Shell mills, with varying pitch options, cut from 1.5" to 4". Helical roughing end mills are available in 1.0" and 1.25" diameters. Utility cutters that maximize the economy of usage (available cutting edges) are available in .75", 2" and 3" diameters. The maximum depth of cut for 12mm inserts is 0.430".
The new 12mm inserts feature a stronger geometry for heavier cuts using smaller-diameter cutters. Inserts are available with an APET cutting edge for high-performance milling of most tougher/harder steels and cast irons, or an XPET cutting edge for softer steels, stainless steels and high-temperature alloys. Also available are XPET-ALU inserts, ground to a sharp edge for non-ferrous applications, including aluminum, plastics and wood.
Dapra's cutters and inserts are made in the USA.
Want more information? Click below.
Copyright © 2020 by Nelson Publishing, Inc. All rights reserved. Reproduction Prohibited.
View our terms of use and
privacy policy