New Communication System Lowers Costs and Improves Quality By Allowing Manufacturer to "Share Shop Floor Knowledge"
CMP has invested $5 million in the creation and implementation of President Steve Zimmerman's brainchild, Visual Knowledge Share, a system he claims will drastically reduce defects while lowering production costs.
In a medium-size factory in a suburb of Montreal, a young team of computer savvy marketers and developers is out to revolutionize manufacturing.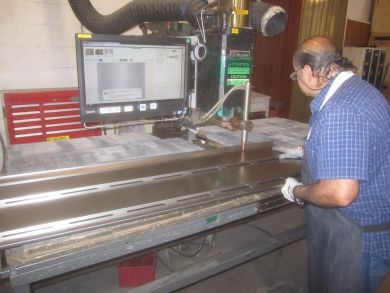 Their cure for high defects and low productivity, high costs associated with staff training and wasted material, expensive storage for inventory and lost time due to complexities of modern manufacture, is called Visual Knowledge Share or VKS.
And the company that developed it, CMP, a low-volume metal manufacturer of enclosures for transport, medical and security industries, is betting that VKS will not only reduce costs and up profits and productivity, but will eventually be a bigger business than the metal manufacturer with projected annual revenues of $70 million that gave birth to it.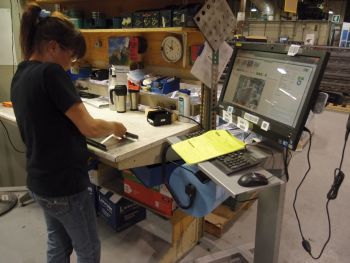 It is the brainchild of company president Steven Zimmermann, 52, who has helped shepherd the company founded by his father through the seductive storm of a cheap Canadian dollar, the introduction of free trade and the stampede of manufacturers who saw labor price as the determining factor in production and moved their shops overseas or to Mexico.
But Zimmermann bucked the trend. He saw a cheap dollar as a temporary crutch and it turned out he was correct. What was once worth 60 cents U.S. is now pretty close to par.
And he saw offshore manufacturing as an easy but vulnerable method of staying competitive.
Zimmermann was convinced increased productivity through automation and a ruthless dedication to perfection, not only in production but in design and assembly, would yield high-quality goods at competitive prices.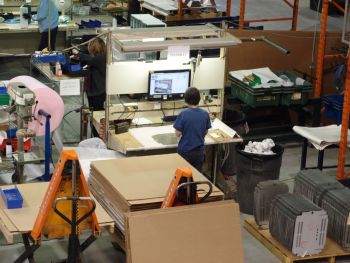 He believed well-paid jobs could be kept onshore by selling increased quality and drastic reductions in defects.
"I have a continuous improvement mindset," says Zimmermann. "And little tolerance for ineptitude."
VKS was officially launched in May at the American Society of Quality Conference in Indianapolis.
Briefly, VKS is comprised of a touch screen computer monitor or even an iPad or tablet and a bar code scanner, the computer is linked by Internet to secure VKS servers in Chicago.
When an employee on the shop floor is confronted by a new piece to be assembled or installed, processed or painted, he scans an attached bar code and his computer screen lights up with a series of instructions, in video, text and/or schematics.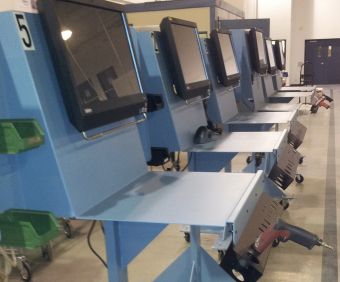 There is no time lost by men and women on the shop floor trying to decipher file cabinets full of written instructions, often misfiled, damaged or out-of-date.
In fact, one of the features of the VKS system is that it can be instantly updated or modified. With feedback from employees on the floor, design and procedures can be altered immediately -- one of the benefits of engineers working side by side with production teams, a powerful argument in itself for on-shoring.
The system also monitors procedures so that no step is missed, no process overlooked.
It can, through computer assist, insure perfection, by, for example, guiding a hand held screwdriver or wrench to deliver the exact torque as specified by the customer.
And the specifications are stored on the computer for verification later should a client have problems.
VKS is especially valuable in shops like CMP where there is a low volume of goods being assembled. CMP has several hundred customers for which it produces thousands of pieces, including U.S. Homeland Security and Canadian plane and train builder Bombardier. It makes as few as three large enclosures for an airport scanner or several hundred subway car doors or a few thousand server racks.
With VKS, employees can work on an item without having to take large chunks of time to learn a new process for a new customer.
Or it can be an asset for new hires in industries like the booming U.S. auto and auto parts business, where VKS can reduce on-the-job training times.
It's a unique kind of just-in-time learning -- employees learning a task and only that task and only when they need to know it.
And if properly integrated, the just-in-time learning and production can be part of a just-in-time delivery system, which means reduced parts inventory and storage costs.
But VKS also provides a unique monitoring system by clocking each process in the assembly of a product.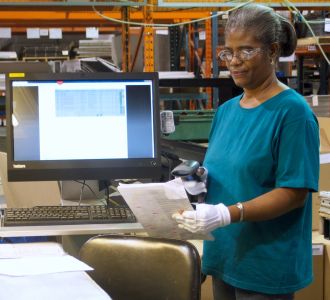 VKS head of sales and marketing, Kyle O'Reilly, says if a procedure is estimated to take 10 minutes, for example, but employees regularly take less or more time, it's important feedback for engineers and designers. It's also a tool that can highlight out-performing workers or vice versa, but the company insists it's not a system designed to keep tabs on workers.
It's more of a way to streamline production and improve efficiencies.
"Some people take longer at a task and that's okay," says O'Reilly. "But if someone on the floor regularly takes 50 per cent more time at a task than someone else, then we can know about it and find out if there's a problem. But it's not a Big Brother tool."
CMP is now a showroom for the Visual Knowledge Share, developed at CMP at a cost of $5 million and counting.
Within weeks, the transformation at CMP will be complete and each work station, from painting to laser slicing and robotic welding, will be equipped with VKS. The company began with the processes that were most prone to defects and worked toward the least problematic.
At its own shop it has reduced defects in problem areas by more than 95 per cent, Zimmermann says. His goal is zero defects.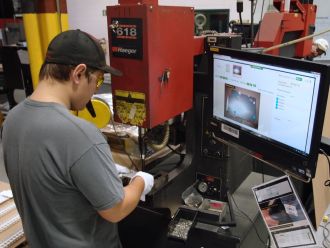 O'Reilly says companies installing VKS need only an Internet connection with sufficient bandwidth, computers and touch screens and scanners for each work station. The service is sold on a monthly basis with a small fee for each work station, and a charge for each "author license" -- the station that uses the VKS software for creating work instruction. "It is both intuitive and easy to use," says Zimmermann. The client information is stored on a cloud-based environment so clients can avoid additional hardware and IT maintenance costs.
Clients can opt out at any time and consultation services on how best to integrate and operate the system are available.
For Zimmermann, no company is too small or too large to benefit from VKS's dedication to high productivity and defect reduction.
Want more information? Click below.