Global Builder of Waterjet Cutting Systems Establishes New Organization in U.S.
Waterjet USA LLC is a newly-established sales, service and parts organization, supporting users of the high precision 2- to 6-axis cutting machines from Waterjet Corporation s.r.l. of Monza Italy. Annually, the company produces over 130 machines. It was founded in 1991 and it has shipped over 1300 systems worldwide since then.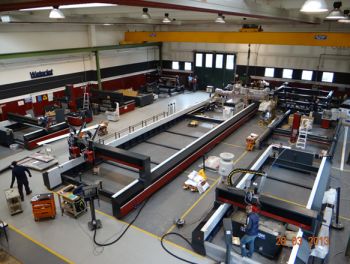 The organization was jointly announced by Massimo Russo, president of Waterjet Corporation s.r.l, and Massimo Denipoti, president of Waterjet USA LLC. "We made the decision to directly invest in the North America market," stated Mr. Russo, "as a logical next step to earlier successes here utilizing importers." Waterjet Corporation is a leading Italian machine builder, specializing in 2D and 3D cutting systems, serving the metal fabrication and machining industry, as well as several other sectors.
For several years, Waterjet Corporation has been building complete cutting systems for the North America market, sold exclusively to and through MC Machinery, a Mitsubishi-owned machine tool importer and distributorship, based in Wood Dale IL. Earlier, Waterjet Corporation's products were imported into the US through a Canadian importer and distributor.
Waterjet Corporation is no stranger to the United States, working closely for many years with its supplier partner KMT of Baxter Springs, KS. Waterjet Corporation uses, almost exclusively, the high-pressure intensifier technology for which KMT has become known worldwide.
Want more information? Click below.
Copyright © 2020 by Nelson Publishing, Inc. All rights reserved. Reproduction Prohibited.
View our terms of use and
privacy policy