New Double Column Machining Center Reduces Number of Set-Ups Required; Minimizes Errors, and Saves Time and Money
Okuma America Corporation unveils its newest double column machining center, the MCR-A5CII. With its multiple heads, the MCR-A5CII can now machine all five sides of a part from a single set-up. With this machine it takes only 2-3 set-ups to accomplish the same tasks that require 5-6 set-ups on a vertical machining center. This reduction in set-up time saves end users time and money, and also minimizes chances for costly errors.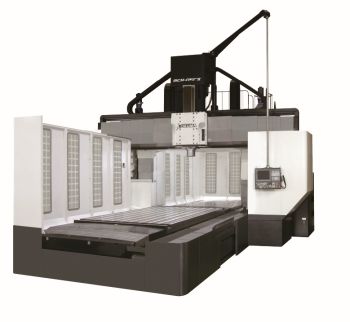 The MCR-A5CII double column machining center delivers true 5-sided machining in a compact footprint. The solid double column construction ensures greater rigidity and closer tolerances, making this machine well-suited for the efficient machining of general parts and rapid die/mold jobs.
Features of the MCR-A5CII double column machining center include:
Improved productivity with higher machining capacity than its predecessor, the MCR-A5C
High accuracy and dimensional stability
Highly rigid ram-type spindle head
THINC® OSP P300 CNC control for easy operation
Compact auto loading/unloading attachments for 5-axis machining
Compact footprint
The MCR-A5CII comes standardly equipped with Okuma's Thermo-Friendly Concept, which stabilizes thermal deformation and therefore shortens warm-up times and reduces the need for dimensional correction during production.
Want more information? Click below.
Copyright © 2020 by Nelson Publishing, Inc. All rights reserved. Reproduction Prohibited.
View our terms of use and
privacy policy