Cutting Tool Consumption and Manufacturing Technology Orders Down 7.2% for 2013
July U.S. cutting tool consumption totaled $159.5 million, according to the U.S. Cutting Tool Institute and AMT -- The Association For Manufacturing Technology. This total, as reported by companies participating in the Cutting Tool Market Report (CTMR) collaboration, was up 3.2 percent from June's total but down 0.2 percent from July 2012. Year-to-date shipments are $1.17 billion, which is down 7.2 percent from the same period in 2012.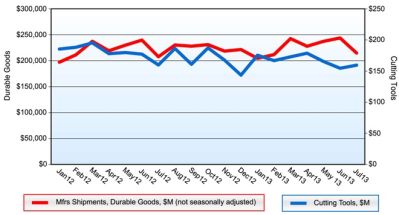 These numbers and all data in this report are based on the totals actually reported by the companies participating in the CMTR program. The totals here represent about 80 percent of the U.S. market for cutting tools.
"Most economic indicators for manufacturing for July were in line with cutting tools, showing small improvement for the month," said Brad Lawton, chairman of AMT's Cutting Tool Product Group. "Key customer industries such as motor vehicles are poised for a strong autumn."
The Cutting Tool Market Report (CTMR) is jointly compiled by AMT and USCTI, two trade associations representing the development, production and distribution of cutting tool technology and products.
July U.S. manufacturing technology orders totaled $351.21 million according to AMT. This total, as reported by companies participating in the USMTO program, was down 23.6% from June and down 23.6% when compared with the total of $459.44 million reported for July 2012. With a year-to-date total of $2,925.12 million, 2013 is down 7.2% compared with 2012.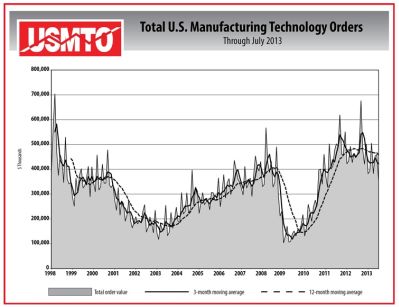 These numbers and all data in this report are based on the totals of actual data reported by companies participating in the USMTO program.
"This muted order activity is not atypical for summer months, and is concurrent with other monthly readings that indicated a drop in durable goods orders and a flat industrial production index. Despite this seasonal dip, however, the bigger picture for manufacturing remains positive," said AMT President Douglas K. Woods. "It's important to note that in regional USMTO activity, the Northeast and West regions are at their highest average and year-to-date values in 15 years, thanks to the precision parts and aerospace industries. Meanwhile, the PMI posted its third consecutive monthly gain. We anticipate a continued pattern of modest but sustained growth through the end of 2013."
Meanwhile, AMT's Technical Director, Tim Shinbara, will be conducting a webinar (Tuesday September 17th at 11am ET) on some of the latest technologies in manufacturing, the ways you can get the most out of them, and what you should be considering right now.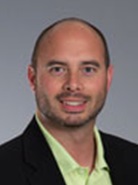 A few of the topics to be discussed:
You might already be receiving manufacturing data on your mobile device, but is it quality data?
What are some of the latest production trends with additive manufacturing, and what's happening at the National Additive Manufacturing Innovation Institute?
How are you addressing potential cyber security threats to your manufacturing operations?
To register, click below.
Want more information on the reports? Click below.