Powerful New Light Bulb Lasts Up to 50 Times Longer than Standard Bulb; Ideal for Industrial Hand Lamps and Work Lights
Larson Electronics has released a powerful new LED lamp capable of acting as a direct replacement for incandescent bulbs used in standard light sockets. The LED17W-PAR38-WP 17 Watt LED Style Bulb produces more light than 150 incandescent lamps and provides added versatility in the form of multiple color options.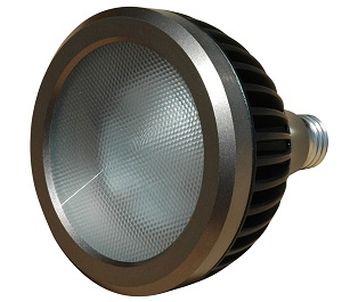 The Larson Electronics LED17W-PAR38-WP 17 Watt LED Style Bulb is designed for power, efficiency, and high durability and serves as an excellent alternative to incandescent bulbs used in standard E26 bulb sockets including those used in outdoor floodlights and indoor light fixtures.
This LED light is far more efficient than incandescent bulbs, producing 1600 lumens of light output from only 17 watts, making it ideal for those who want to reduce their power use but don't want to compromise their lightings' effectiveness.
This light features an aluminum body for high strength and can withstand rough handling and use that would destroy typical incandescent bulbs, and the 50,000 hour life rating means this light will last at least 30 to 50 times as long as a standard incandescent bulb. The light output from this lamp is brighter, cleaner, and whiter than that produced by a 150 watt incandescent flood light, making it ideal for replacing industrial hand lamps and work lights.
The LED17W-PAR38-WP is an excellent drop in alternative to standard flood lights and work lamps and gives operators the ability to greatly improve the performance of their existing lighting fixtures while drastically cutting power consumption and improving reliability at the same time.
Want more information? Click below.
Copyright © 2020 by Nelson Publishing, Inc. All rights reserved. Reproduction Prohibited.
View our terms of use and
privacy policy