Rotary Indexing Table the Key to Providing Automated Polishing and Grinding Options at Lower Costs
A German grinding and polishing company, SHL, has collaborated with Weiss, an automation specialist, to come up with turnkey solutions to grinding and polishing highly complex work pieces.
Since the 1980's, SHL (Böttingen, Germany) has been using industrial robots with its automated grinding, polishing, and deburring systems for the automotive, medical, and processing industries. Typically, heavy duty robots with powerful articulated-arms seem somewhat oversized for the delicate tasks and complex geometries such as polishing roof rails and trim for cars.
Table Turning Station: Rotary indexing tables up to a diameter of 2.5 meters are manufactured here.
An in depth consultation with industry leading specialist for rotary tables and automation, WEISS (Buchen, Germany), and its' subsidiary WEISS North America, Inc. (Willoughby, OH), revealed that a powerful robot coupled with a series of heavy duty rotary indexing tables (TC220 / NR750 / CR750) from WEISS would provide an optimal standardized and flexible solution.
Ultimately, using grinding and polishing machines swivel-mounted on WEISS' rotary indexing tables vastly expanded the processing options for complex geometries and under-cuts.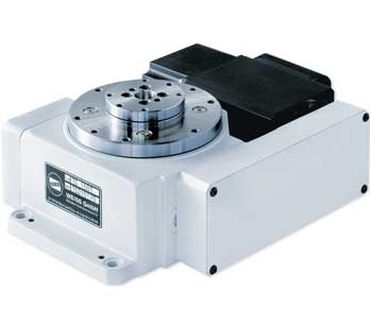 TC Rotary Indexing Table
Robotic Challenge
In the late 1980's, the automated grinding and polishing of mass-produced parts was typically carried out by special cam-operated or CNC-controlled machines. But as fixtures, fittings, and components from the medical technology and automobile manufacturing industries became more and more complicated, the use of freeform surfaces began to increase and economic solutions needed to be found for the growing product variety and smaller series.
Whereas robots provided the degree of flexibility required for this operation, they have their limits and can become 'stuck' when faced with highly complex geometries. In order to reach the farthest corner and the deepest radius, the grinding and polishing machines, to which the robot holds the work pieces, needed to be able to swivel into specific positions.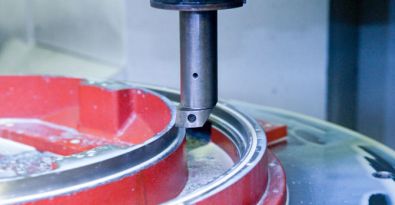 A close up of the housing milling process
Karl-Heinz Oberkampf, Production Manager at SHL, recalled the early years of this dilemma stating, "In the first installations, we mounted our grinding and polishing robots on a construction we put together ourselves from gears, transducers, and locking mechanisms -- which involved a lot of work. In the medium term we were looking for a standardized, yet flexible solution."
Rotary Indexing Table Solution
SHL consulted with WEISS Technical Sales agent, Wolfgang Lehnert, who noted, "We have a wide range of rotary indexing tables that enable the development of standardized swivelling and positioning units. Using the same dimensions and load data, we offered both fixed-position and user-programmable tables, both with and without their own drive as required. This means we were able to offer SHL not only a high degree of standardization in design and construction, but also the greatest possible flexibility when it comes to the drive and control system."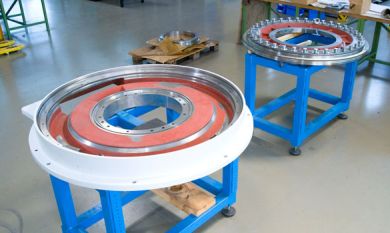 Final assembly
SHL had finally found the right basis for its swivelling and positioning units. In a typical robot cell, several grinding and polishing machines are mounted on a rotary indexing table or arranged in a fixed constellation around a robot. The articulated arm grips a component and guides it along the polishing disks and grinding belts. The rotary indexing tables allow processing at various angles and even enable travel during processing.
Rotary Indexing Selection
Notably, SHL selected the rotary indexing tables for their swivelling and positioning units, and rotary indexing rings and heavy-duty tables for special solutions without drives.
The lightweight design has both of the smaller SHL grinding and polishing machines mounted to a fixed- position WEISS TC220 rotary indexing table. The table rotates in 15-degree steps and swivels the machine a maximum of 90 degrees from the central axis.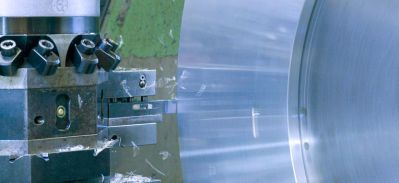 A close up of the table turning process
For the heavy grinding and polishing machines, Oberkampf stated his choice of the user-programmable WEISS NR750 rotary indexing ring, "Our customers want more design freedom with larger installations."
SHL also increased use of the WEISS rotary indexing tables for special machines and feeding systems. One such case is the polishing robot, in which a user-programmable WEISS CR750 heavy-duty table takes care of changing the work piece carrier.
Consultation / Collaboration
WEISS' consulting service wasn't just limited to selecting the right rotary index tables. According to Oberkampf, "The WEISS team also supported us in selecting the drive -- even though we often order the tables without one!" The drive and control system are selected in accordance with the customer's requirements, which means that lots of different motors are used. In some cases, the rotary indexing table is even controlled by the robotic control system as an additional robot axis.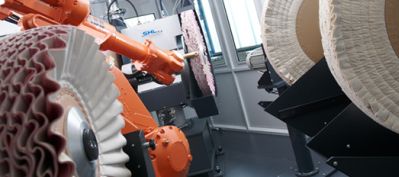 SHL prides itself on its knowledge of the polishing procedures, suitable polishing techniques, and the corresponding polishing process.
According to WEISS' Lehnert, "Whatever their particular specifications may be, it goes without saying that the end customer expects the system as a whole to be perfectly calibrated. That's why we provided SHL with in-depth consulting at every development step -- going beyond just the individual components from the catalog."
WEISS' first step is to define the size of the rotary indexing table in line with the specified volumes and dimensions in the concept phase. As soon as detailed construction data and information on the desired drive are available, they contact the drive manufacturer in order to find the optimal motor size and transmission ratio for the application and the table used. Lehnert noted that, "The only way to ensure that the whole system works smoothly is if the drive manufacturer, SHL, and WEISS actually get together and work in close cooperation."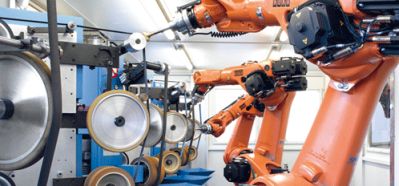 A combination of grinding machines and robots to create individual robotic grinding cells.
Although the drive is not explicitly included in the scope of delivery, WEISS supports the customer in selecting the suitable motor size and transmission ratio in cooperation with the drive supplier. The aim is always to achieve an optimally calibrated complete system.
Robotic / Rotary Indexing Tables Conclusion
Finally, the SHL robot heaves an enormous polishing unit over the work pieces that the heavy duty rotary indexing tables from WEISS replaces with a fresh batch once processing is complete. To date, more than 1,100 SHL robotic grinding and polishing systems have been implemented worldwide.
Noting the success of their mutual cooperation, Oberkampf stated, "We enjoy working together with WEISS -- particularly on special projects. Our companies share a similar philosophy as anyone can deal with normal cases. It's only in special cases that a company's consulting and service show how good it really is."
Want more information? Click below.