New Online Product Configurator Greatly Reduces Time Required for CAD Downloads
An integral part of the product design process, CAD downloads have become the preferred way for engineers to specify products into both large and small manufactured assemblies. DE-STA-CO's all new interface vastly decreases the time required for designers to find, configure and download these products.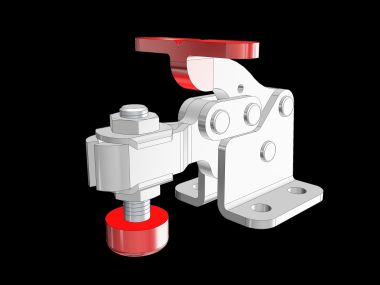 A CAD drawing of a part from DE-STA-CO's online product configurator
Traditionally known for the red-handle toggle clamps, DE-STA-CO is a world leader in workholding and positioning solutions for customers around the world. The company's clamping gripping, transferring, indexing and robotic tooling products are used in a wide range of industries, including aerospace and automotive/transportation.
"We're constantly working to make it easier for customers to do business with DE-STA-CO," says Jennifer Grahn, Global Website and E-Business Manager. "Our goal is to streamline the process for visitors to our website, making it easier and faster for them to access the 3D parts they need."
DE-STA-CO had previously offered static, non-configurable CAD models online as well as configurable 3D parts through an external portal.
"We set out to increase our volume of CAD downloads because we know each download is a step closer to a physical sale. We took a look at our offering and saw the best solution was to embed the configurator directly on the product pages within our website," Grahn explains. This streamlined design gives the customer a great interface, making it easier to quickly access the data they need. As an added benefit, the embedded design allows us to control more of the marketing messaging and support information surrounding the product."
DE-STA-CO currently offers more than 1,200 unique products via their online product configurator, each with tailored product data sheets, CAD download information, customer support and online quote request forms.
"It's great to see companies that really understand the tangible link between their sales configurator CAD downloads and sales," adds Rob Zesch, President and COO of CADENAS PARTsolutions. "There are few other marketing programs which can demonstrate such a quantifiable ROI like our online product configurator can, as well as insight into their customer activity. When DE-STA-CO sees downloads spike they can trace the link to sales and manufacturing, which will see parallel increases as those downloaded products become a closed sale."
Want more information? Click below.