Grooving and Cut-off System Adds New High-Performance PH Geometry Designed for Materials Harder Than 35 HRC
Job shops around the world may have business and customer requirements unique to each company, but concerns on how to improve costs and secure more business are common to all. "Shops want more performance options, and at the same time don't want multiple, job- or material-specific tooling solutions tying up their inventory," says Mark Filosemi, global product manager, threading, grooving, and cut-off for WIDIA.
"Where productivity is concerned, particularly in grooving, and cut-off, you have to have a versatile system to be serious. That's where the WIDIA WMT platform is a proven winner, because shops can do more with it."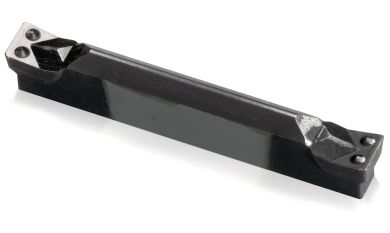 Now that platform is expanding with the addition of the new high-performance PH geometry, designed and engineered for plunging and turning in materials harder than 35 HRC or in heavily interrupted cuts across a broad range of work materials.
The new PH geometry fits in with the proven features that make WIDIA's WMT platform a core program for grooving, and cut-off. One toolholder securely seats whatever insert geometries are needed: PT for plunging and turning, PC for plunging and contouring, CM for cut-off (or CM-W with wiper), and the new PH geometry for plunging and turning hard materials.
The WMT toolholder is engineered with an extra-long clamping area for excellent insert stability. The proprietary "Double V" system makes it easy to securely seat inserts in the toolholder pocket for both optimal insert positioning and superior side-load resistance. Such precise insert positioning and overall system rigidity both translate into notably improved accuracy and tool life, whether it's face grooving, ID grooving, OD grooving, plunging, or profiling that needs to be done.
"Whether companies are familiar with the WMT system or coming to it for the first time, the value remains: one toolholder, multiple options," Filosemi says. "Adding the new PH geometry for plunging and turning hard materials or doing interrupted cuts gives shops more options to get the jobs done."
Want more information? Click below.