Coolant-Through Retrofit System Offers Affordable, Low-Maintenance Internal Cooling in Two Minutes
A first of its kind, the new retrofit reCool coolant-through system from REGO-FIX is a quick, cost-effective and low-maintenance way to bring the benefits of internal cooling to the live tooling used in CNC turning operations.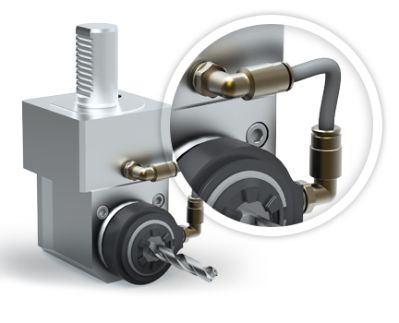 reCool, which converts an existing tooling system to include through-coolant in as little as two minutes, is much more effective in getting coolant to the cutting edge than spray pipes or nozzles. It achieves standard speeds up to 6,000 rpm and pressures up to 300 psi. Higher speeds and coolant pressures are available upon request.
"By adding reCool to their CNC turning operations, manufacturers can easily remove heat from the cutting zone and achieve better surface finishes, longer tool life, improved chip control and increased productivity overall," said David McHenry, senior product engineer at REGO-FIX.
With reCool, live tools featuring external threads (ISO 15488/DIN 6499) can machine faster and last longer. The system also works in conjunction with REGO-FIX collets, sealing and coolant flush disks, milling cutters and drills with diameters from 0.098" to 1.2". Furthermore, because of its simple structure and special lubricated bearings, reCool serves as an affordable, low-maintenance internal cooling system.
Want more information? Click below.
Copyright © 2020 by Nelson Publishing, Inc. All rights reserved. Reproduction Prohibited.
View our terms of use and
privacy policy