New Deep Grooving and Parting Off System Provides Long, Predictable Tool Life and Excellent Chip Control
Sandvik Coromant introduces a brand new parting off concept for deep grooves and long overhangs.
For volume bar-fed parts manufacturing, producers are continually seeking solutions that offer more efficient material usage to control their overall costs and support increased bar feed capacity. Ensuring process security through a predictable and consistent tool life is also important to ensure reproducible parts quality, particularly for parting off.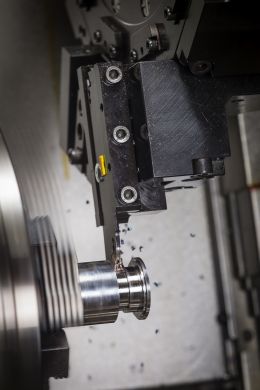 With the introduction of CoroCut QD -- a range of solutions covering parting and SL blades, adaptors, shank and Swiss tools and a new generation of inserts for parting off -- these aspirations can be met. CoroCut QD builds on the well-proven Q-Cut and CoroCut ranges, and expands the options for these processes with a flexible, simple-to-use and easy-to-select tooling range.
Key Design Features
The focus areas in developing this new concept have been new tool material and a tooling design for greater process stability. The tool attachment is achieved via a smart, yet simple, user-friendly clamping mechanism. The tool tip seat is tilted 20 degrees and incorporates a back stop to withstand high cutting forces. For insert widths 0.078 in. (2 mm) and wider, the insert interface has a rail to increase stability.
In developing CoroCut QD, attention has been paid to the development of new and upgraded parting geometries. When parting off a component, minimized cutting forces and efficient material removal are important. An insert should be as narrow as possible and have a geometry that makes the chip narrower than the groove to provide a parting off operation with good chip control and surface finish. Within the CoroCut QD concept are inserts with five parting geometries and one turning geometry as well as options for "do-it-yourself" grinding and tailor-made options for a broad range of material types. The PVD insert coating offers better adhesion, improved edge-line qualities and better ER tolerance.
Want more information? Click below.
Copyright © 2020 by Nelson Publishing, Inc. All rights reserved. Reproduction Prohibited.
View our terms of use and
privacy policy