Off-Road Diesel Equipment Manufacturer Adds Nearly 2 Weeks to CNC's Annual Capacity By Attacking Reaming's Hidden Costs
A "Quik"decision by Kirby Risk Precision Machining reduced reaming time by 7 to 1 and tool change time from 2 hours to 7 minutes.
Though reaming may represent just a tiny slice of total machining cycle time on a "busy part", how much time are you wasting to service that reamer? You may be in for a surprise.
Ask Dave Roberts, process engineer at Kirby Risk Precision Machining KRPM), Lafayette, IN. On a "busy" 8-lb cast iron housing, he discovered a way to cut reaming cycle time by 7 to 1, extend tool life by 100 to 1 and cut tool changing time from an hour to just two minutes.
Added Capacity -- For Free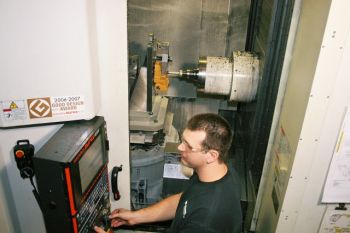 Reaming operation underway at Kirby-Risk Precision Machine, Lafayette, IN. By eliminating machine time for adjustments every 100 parts, the switch in reaming tools added nearly two weeks per year of capacity to the CNC that handles the job. Ingersoll Qwik-Ream reduced tool servicing time from an hour to 2 minutes, finishes a difficult hole seven times faster and lasts 2000 hits vs. 100 before.
"Most important, we improved capacity of the entire machine because we no longer need to stop a 20-step CNC process for an hour each time a reamer needs servicing," he said. "And it cost us nothing. The money we spend on the new tool comes from not spending it on the old one."
The switch was from a conventional indexable reamer to an Ingersoll Qwik-Ream replaceable tip reamer in a Qwik Adjust collet chuck.
KRPM is a 96-man contract machining company that runs 16/5 specializing in housings and attachments for off road diesel equipment. Their 21-machine inventory includes CNC lathes, mills, and 5-axis machines. The part that triggered the retooling has an annual volume of 5000 pc, which KRPM typically runs in 200-pc lots every two weeks.
How You Look At It
Roberts made the changeover several years ago, when an order increase for the castings sent him and his Black Belt Process Improvement Team looking for added capacity without any outlays for additional machinery. They quickly zeroed in on the bottleneck reamed hole, which measures 0.998 in. dia x 1.85 in. deep. They were reaming the hole with an adjustable-blade tool at 150SFM/0.003 IPR, giving a 54-sec cycle time. It is part of a three step milling, drilling and reaming operation that KRPM runs on a Mazak.
Qwik-Ream in Qwik Adjust collet chuck holds 0.0002 in. runout in a 2 to 1 aspect hole with an interrupted cut in the bottom.
"We just looked at the problem differently," said Denny Matson, process engineer. "It wasn't the cycle time itself that was holding us back, rather the tool servicing time and the baggage associated with it. With all the adjustments needed to keep an adjustable-blade reamer running within tolerance, we were losing a full hour of machine time and a couple of trial parts every one hundred pieces."
So Mr. Roberts asked Brad Wolf of GL Technologies, one of their trusted tool distributors, for ideas. He suggested testing the Ingersoll Qwik-Ream and adding Tim Prickett, Ingersoll field engineer, to the Black Belt team.
Mixing Rocky Cuts and Tight Finish Specs
"The operation was more challenging than typical reaming for a couple of reasons," said Mr. Wolf. "For one thing, there's an interrupted cut at the bottom of a hole with a 2-to-1 aspect ratio. For another, tolerance requirements remain at 0.0005 in./125 RMS all the way right through the interrupted-cut region. Fine finishes and interrupted cuts don't mix well. The interruptions can set up vibrations and impact loads that can cause chatter."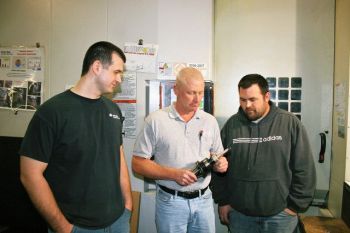 KRPM Black Belt Productivity Improvement Team at work on the next challenge. L to r Vince Harris, Denny Matson, Marty Hodges. Matson and his colleagues regard GL Technologies and Ingersoll as part of the team.
Because of the interrupted-cut aspect, Prickett and Ingersoll product manager Craig Bastian suggested an Ingersoll Qwik Adjust collet chuck, which allows any spindle misalignment to be corrected. The 2 piece collet chuck features axial and radial adjusting screws. When clamped in the spindle and used with a dial indicator, the Qwik Adjust holder can easily reconcile spindle to workpiece alignment.
Replaceable-Tip Reamer Solves Several Problems
"The biggest difference between the two tools is that the Qwik-Ream is a replaceable-tip tool," explains Mr. Prickett. "At tool change time, you simply twist out a single worn tip and twist in a new one -- without upsetting any datum references. Repeatability is within 0.0002 in., on diameter and datum references, which eliminates time spent for any adjustments and scrapping of trial parts."
Right there, KRPM stood to gain nearly an hour of machine capacity every one hundred parts. The trial was run right on the production floor. Prickett and Wolf tried various settings finally settling in on 300SFM/0.040IPR. This yielded a cycle time of just 8 seconds -- 14 times faster than before.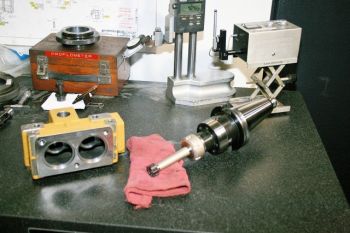 On this busy 8 lb casting, Ingersoll Qwik-Ream.reduced reaming time by 7 to 1, improved tool life 100 to 1, and reduced tool change time from 2 hr to 7 minutes. Replaceable tip reamer can be changed out right in the spindle.
Stay Tuned
The news got better the longer the trial continued. While the original reamer needed blade adjustment or replacement every 100 pieces, the first tip on Qwik-Ream kept going -- and going until they called off the trial at 1000 pc. On the thousandth piece, surface finish checked out at a very smooth 35 RMS. With the previous cutter, by contrast, surface finish -- often the trigger for stopping the operation -- deteriorated to around 125RMS after 100 hits.
Roberts quickly standardized on the Qwik-Ream, using the same machining parameters as in the test. Its original tip lasted through 2000 hits, with tip replacement taking just two minutes -- while the reamer was lying idle in the tool magazine. "Servicing the Qwik-Ream takes zero machine downtime since we do it off-line, and very little labor time for the tip change itself. The biggest part of the two-minute tip change cycle goes to walking around the machine to access the tool magazine."
Making the Team
Greg McGowen, owner of GL Technologies, brings a different take to the retooling. "Recommending a tool that lasts 200 times longer certainly cuts into our resale business -- in this particular case. But we must always recommend what's best for the customer -- or they'll find someone who will."
"It's that attitude that makes GL and Ingersoll the "go-to" guys when we're looking for a productivity fix. Denny and I really regard them as part of the Black Belt team."
Want more information? Click below.