Smart New 5-Axis Vise's Novel Design of Pulling Jaws Together at the Top is Pure "Genius"
OML's new Genius 5-axis vise turns workholding concepts on their head with a unique design that maximizes clamp force at the top of the jaws by pulling them closed at the top with a collapsing lead screw, while holding the bottom of the jaws in place with an opposing force screw.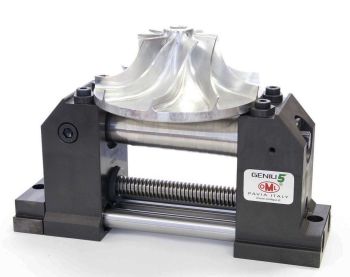 Available from Lexair Inc., the dual-screw, pull-to-close Genius vise completely eliminates the tendency of traditional vise jaws to splay apart at the top, which requires machine operators to hammer a workpiece down against the stops as the jaws close and clamp force increases. By holding the vise jaws apart at the bottom and pulling closed at the top, the Genius vise actually pulls the workpiece down against the stops as closing force increases. The Genius vise is available in two sizes, capable of holding parts up to 8 inches, with maximum clamp force of 9,000 pounds.
The Genius vise is specifically designed for precision 5-axis milling with trunion-table machines. The adaptable vise easily secures oddly-shaped workpieces, such as turbine blades and blisks, and presents them to the spindle with minimal obstruction, reducing setups and ensuring repeatability of 0.0008".
Intended for production machining, the vise is built with precision, hardened and ground steel components. The jaws are guided on two heavy steel shafts, allowing quick, accurate centering on a pallet or machine table. A telescoping stainless steel cover fully encloses the collapsing lead screw to protect it from chips and coolant.
Want more information? Click below.
Copyright © 2020 by Nelson Publishing, Inc. All rights reserved. Reproduction Prohibited.
View our terms of use and
privacy policy