Contract Manufacturer Switches Cost Management Software and Improves Quote Times By 300%
In the past, Sunset Metal Works relied heavily on "tribal knowledge" and experience in its cost estimating efforts. But the process was slow and the results were not great as the company only won 30% of the quotes it put together. Now, after switching to aPriori's Product Cost Management software platform, Sunset can provide users a precise, real-time cost assessment at any time during the development process, with the click of a button.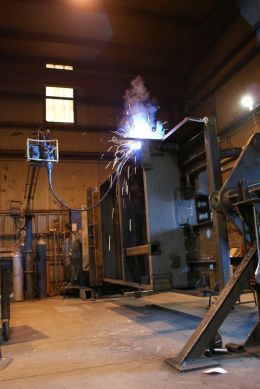 Sunset Metal Works manufacturers parts of various sizes and scopes -- shown here are light to medium weldments.
Sunset Metal Works is a contract manufacturer of painted metal weldments and fabrications to Original Equipment Manufacturers (OEMs). It serves a variety of segments in Agriculture & Construction Equipment, Aerial Work Platforms, Vertical Transportation, Oil & Gas Equipment, Department of Defense (DoD) and custom work. Its services include shape cutting of all ferrous and non-ferrous materials, forming, machining, tube bending, materials joining, finishing, assembly and reverse engineering.
The Challenge
Contract manufacturing for global OEMs is a fiercely competitive business. In addition to product quality and timely delivery, pricing is always a key factor in winning new business and retaining existing customers. Over the years, Sunset has continued to invest in its manufacturing processes and capabilities to differentiate itself in this market. More recently, it has also invested in two new areas -- product costing and finishing services.
On the product costing side, Sunset Metal Works has relied heavily on "tribal knowledge" and experience in its cost estimating efforts. In 2007, the company implemented a new ERP system and began to utilize that as its primary cost estimating tool as it created Bills of Materials (BOMs) for each project. The cost estimating process was thorough, but fairly lengthy. And the company was only winning 30 percent of the quotes it put together.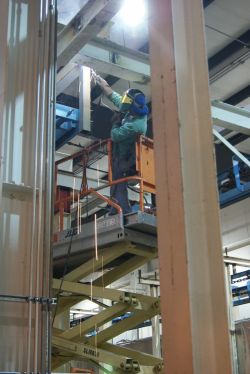 Construction nears completion on Sunset Industrial Applications' facility. Featured here is the power & free conveyor system installation.
"We were slow and often missing quoting deadlines as we tried to balance all the different new and existing customer opportunities we were quoting on," said Laura Nicklas Sponseller, head of business development at Sunset Metal Works. "As a result, our business development team was not always able to put its best foot forward with prospect OEMs when we were given a package to quote. We worried that customers perceived this as a lack of interest, but our estimators had their hands full with current customer RFQs. It was a struggle to balance it all."
The problem was not limited to new business either. An increasing number of existing customers were also looking for greater transparency in the cost process. This put additional pressure to document what were highly manual processes managed by a select number of product cost experts in the organization.
The Solution
The need to take action hit home in 2012 when Sponseller saw an article about another contract manufacturer that had deployed a product cost management platform from solution provider aPriori. The article talked about how "the first quote in often wins," especially where there is an existing relationship.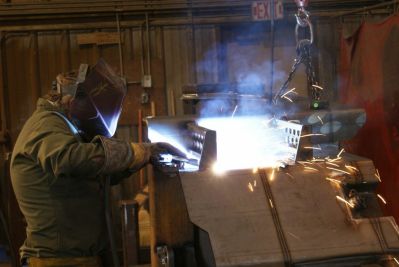 Sunset employee welds a frame for a compaction unit. The company does both robotic and manual welding.
aPriori's Product Cost Management software platform is a flexible and powerful costing engine that is able to instantly and precisely determine the cost of a part or product from a 3-D CAD model, based on the materials to be used and the manufacturing environment where it will be produced. With a click of a button, users can get a precise, real-time cost assessment at any time during the development process.
As changes are made, aPriori automatically re-assesses and provides an updated product cost in real time. In addition, the software enables users to leverage product cost data hosted in other enterprise applications to calculate costs and communicate product cost information between all functional organizations involved in product definition and delivery. This includes the import of complex engineering Bills of Materials (BOMs) from ERP, PLM or other enterprise applications.
As a smaller business, Sunset prides itself on its ability to move more quickly than its larger competitors. That advantage was no different when engaging with aPriori. As Sponseller put it, "We researched aPriori, demoed the product, visited with the teams, reached a small group consensus and pulled the trigger. It was a thoughtful but easy decision. We looked into other tools but they didn't seem to offer much improvement over our current ERP-based system."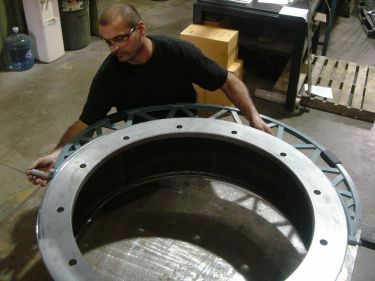 Quality checking a brake flange for an oil & gas OEM.
Sponseller had also read that aPriori was typically only used at the OEM level, but she and her colleagues saw an opportunity to differentiate Sunset by investing in a more in-depth product costing capability that would enable it to respond to customer RFQs more quickly and accurately, and strengthen its ability to win more new business.
The aPriori solution uses a concept called Virtual Production Environments (VPEs) -- a model of a factory that is used by the application to produce cost assessments. A VPE can be configured to represent a specific manufacturing environment -- such as a specific facility at Sunset Metal Works -- or a broader base of suppliers, depending on its intended use. Costing parts with a VPE that matches its specific manufacturing environment, processes and materials enables Sunset to quickly understand the cost of manufacturing different products and parts and respond to an RFP with tremendous detail and accuracy.
Sunset also anticipates synergies with OEMs who utilize aPriori and hopes to strategically connect during design and production costing projects to share their product cost management assumptions and metrics via the VPEs. This will provide true, known cost vs. best practice estimates and eliminate a lot of unnecessary back and forth with the customer. Through this type of collaboration, the OEM would already know what a design would cost at their trusted contract manufacturer so they could move more quickly into production and aftermarket, eliminating weeks of additional effort and speeding time to market.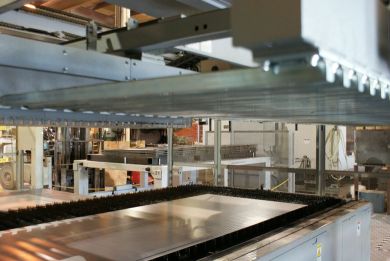 Sunset has invested heavily in technology to improve its capabilities and capacities within its current footprint. Here, the material handling arm of Sunset's FMS laser moves materials from storage to the laser burn table and then relocates the cut parts to off load tables. The FMS laser can run 24/7.
The Results
Today, aPriori enables Sunset to quickly and effectively produce detailed and accurate product cost data for its customers. The speed, consistency and detail of the cost data achieved with aPriori is a big advantage in Sponseller's and Nicklas' view.
While Sunset is still training their estimating team and ramping up internal procedures, they have already seen improvements of 300 percent in their quote times with 3-D models. Once aPriori is fully implemented, their goal is to turn around weldment packages within five days for OEM customers.
The team at Sunset also appreciates its newfound ability to have deeper partnerships with its customers and more open communication and transparency.
"We can now sit down with them and understand why we may not be competitive in a certain aspect of our proposal," says Sponseller. "Both parties can discuss and determine potential areas for cost savings in manufacturability, materials, design and other aspects of the project."
Want more information? Click below.