Webinar to Show How Software's Reverse Engineering Tools Can Reduce Your Modeling Time By 50%
When it comes to reverse engineering, many people think that it's either calipers, or tens of thousands of dollars on a piece of ultra-specialized software.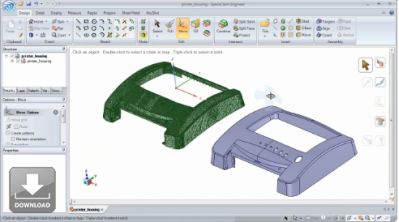 What's needed is a low cost software solution that lets you get your job done fast. SpaceClaim is good for reverse engineering mechanical parts quickly and accurately because it's based on fast 3D direct modeling with built-in tools for snapping to meshes, comparing deviation, and curve fitting.
SpaceClaim is hosting a webinar Thursday, January 23rd, 1:00-1:30pm (EST) to explain how the company's reverse engineering tools will reduce your modeling time by 50%.
To register, click below.
Copyright © 2020 by Nelson Publishing, Inc. All rights reserved. Reproduction Prohibited.
View our terms of use and
privacy policy