Ultra High-Pressure Waterjet Cutting System Designed for the Farm Machine Shop at the Price of a New Pickup Truck
Jet Edge, Inc. introduces the FARM-JET® waterjet cutting system, a 55,000 psi waterjet cutting system designed and priced especially for the farm machine shop.
An industry first, FARM-JET brings the power and versatility of ultra-high pressure waterjet cutting technology to farm machine shops for the price of a new fully loaded 1 ton 4X4 pickup truck, without requiring special electrical service.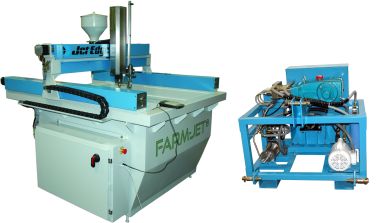 The FARM-JET system includes a 40"x40" (1 m x 1m) waterjet cutting table and a Jet Edge Eco-Jet PTO direct drive waterjet pump that utilizes a tractor's PTO shaft to produce 1 gpm of 55,000 psi water. The system includes one abrasivejet cutting head and a motorized Z axis with 5 inches (130 mm) of travel.
The FARM-JET system is controlled with a Windows® PC (sold separately) and uses a FlashCut Pro-Series Stepper Controller and FlashCut CNC software. It also includes IGEMS path generation software and a hand-held controller pendant for operator convenience. FARM-JET is available for 540 RPM and 1000 RPM PTO shafts and Category 1 and 2 three point hitches (tractor sold separately). It requires a115v 60 Hz or 230v 50Hz power source, fresh water source and a suitable tractor.
"The FARM-JET is the first waterjet cutting system that is designed and priced for the farm shop," said Jude Lague, Jet Edge president. "Until now, if you wanted a waterjet, it meant a six-figure investment and access to 460 volt power. Now you can own a waterjet for the price of a new truck and you can run it off standard household electric and your tractor PTO. With a waterjet system, you can create a nice source of additional revenue, and if you need a part fast, you can cut it in minutes instead of waiting for days or weeks to have it fabricated and shipped. You also can have some fun with it cutting custom tile inlays for your house or racecar parts for your dirt track team."
Waterjet cutting has numerous advantages over other cutting methods. Waterjet cuts virtually any material and thickness without creating a heat-affected zone (HAZ), case hardening or recast, or molecular change of the material. Unlike plasma, waterjet cuts without creating any noxious fumes.
Want more information? Click below.