Compact, Heavy-Duty Workhorse HMC Ideal for Job Shops and OEM's
The HC 400 Horizontal Machining Center from Doosan is a compact, high-precision, heavy-duty workhorse with performance-enhancing features included as standard that make it an optimal solution for OEM's and job shops. A massive Meehanite cast iron bed, large linear roller guideway, and powerful inline 30/35 HP, 10,000 RPM spindle enable heavy cuts on the toughest materials, with superior surface finishes and excellent long-term accuracy.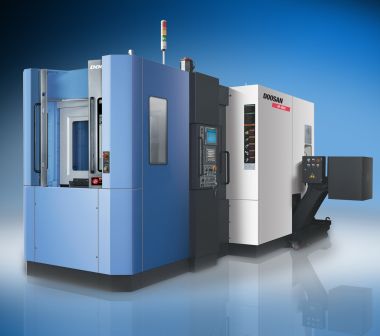 To minimize set-up time and increase productivity, the Doosan HC 400 is equipped with an automatic pallet changer featuring twin tapped pallets. Each pallet measures 15.7" x 15.7" and can handle a maximum load of 882 pounds. All axes are driven by high-precision double-nut ball screws supported on both ends by angular contact thrust bearings. This double pretension design provides outstanding positioning repeatability. Axis travels are 23.62" in X, 22.05" in Y, and 22.24" in Z. Maximum cutting feedrate is 787 IPM, with rapid traverses to 1574 IPM.
At the heart of the Doosan HC 400 horizontal machining center is a high-precision 35 HP, 10,000 RPM inline spindle. Designed for high stock removal and deep drilling operations, the machine is equipped with through-spindle coolant and an oil-cooled spindle chiller which maintains a constant temperature at high speeds, thereby reducing thermal growth and increasing cutting accuracy.
The Doosan HC 400 features a 60-pocket cam-type, swing-arm automatic tool changer. Its random access operation ensures instant tool availability, even with short cutting cycles. The cam-actuated arm provides fast, reliable tool changes in 1.5 seconds tool-to-tool and 4 seconds chip-to-chip.
For improved chip flow, a telescopic cover inclined at a 30° angle directs chips into a trough, keeping the area around the table clean. In addition, high-velocity air jets clear away chips while pallets are being changed, ensuring their accurate positioning at high speeds.
The HC 400's FANUC 32i-A control has a 90° swiveling operator console for improved ergonomics. A hand-held Manual Pulse Generator with 10-foot cord allows full access to the machine and controls axis movement in increments of x1, x10, or x100, for quick and easy fixture or part alignment.
Want more information? Click below.