New 5-Axis Horizontal Machining Center Designed to Machine Soft and Hard Metals; Ideal for Aerospace Job Shops
Makino introduces the T1 5-axis horizontal machining center for high-efficiency machining across a wide range of large part applications. The machine's rigid design, versatile cutting capabilities and sizable work envelope make it an ideal fit for industrial component manufacturing and aerospace job-shop environments, where machining of both soft and hard metals is required.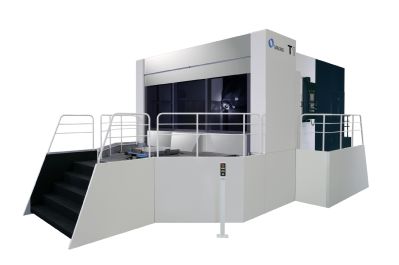 "The T1 5-axis machining center is designed to handle parts of any shape, in any material," says David Ward, horizontal machining center product line manager. "The T1's unique casting and kinematic structure provide ideal accessibility to large prismatic or cylindrical workpieces. The machine features a plus 45-degree to minus 110-degree A-axis tilting spindle, which, coupled with a deep chest column design, allows a minus 90-degree spindle centerline positioning to 550 mm (21.6 inches) beyond pallet center. As a result, large workpieces that are 1-meter (3.2 feet) square by 500 to 800 mm (19.6 inches to 31.4 inches) high can be machined in a single five-sided machining process.
The value of the T1's operation consolidating 5-axis accessibility is compounded by its spindle capability. The torque and power of the 12,000-rpm spindle make it highly productive in the machining of non-ferrous, ferrous and hard-metal materials, putting shop owners in a unique position to deliver highly competitive machining solutions for workpieces of any shape and any material."
The T1 is ideal for large parts commonly machined in industrial, energy and aerospace industries, and it provides X-, Y- and Z-axis travels of 1,500 mm (59.1 inches), 1,300 mm (51.2 inches) and 2,000 mm (78.7 inches), respectively. Workpiece limitations on the 1,000-mm (39.3 inches) pallets are 1,500 mm (59.1 inches) in diameter by 1,500 mm (59.1 inches) tall. Maximum pallet payload is 3,000 kg (6,600 lbs).
Dynamic Stiffness and Rigidity
When producing large, heavy components, a machine tool should deliver the dynamic stiffness and rigidity critical to achieving the highest level of cutting stability. The construction of the T1 meets such requirements with thick Z-axis bed castings, wide slideway surfaces and a deep-chest, monolithic column design, supporting the X- and Y-axis. These features are enhanced with Makino's Active Damping technology that removes cutting vibrations from each axis. Together, these design considerations yield enhanced cutting stability, greater productivity and longer tool life.
High Power Rotary Axis and A/B Configuration
The machine's B-axis rotary table offers a 360-degree rotational speed of 3,600 degrees per minute, which is supported by 10,000 Nm of continuous torque (29,000 Nm peak). The spindle tilting A-axis offers 6,300 Nm of continuous torque (20,000 Nm peak), and enhances spindle and workpiece accessibility with a compact 400-mm (15.7 inches) pivot distance.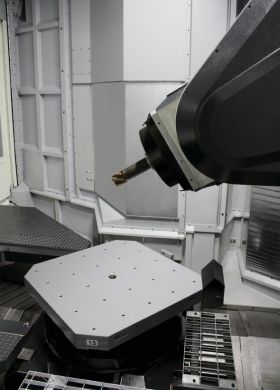 Traditional approaches for 5-axis machining use trunnion tables for rotary motion. The T1 employs an alternate design with a unique A/B-axis configuration that eliminates the need to tilt the workpiece by shifting A-axis motion to the spindle side. This simple change in 5-axis kinematics delivers significant improvements over trunnion solutions. Operators also benefit from unobstructed visualization of the cutting zone and a reduced distance between floor and pallet top for simplified fixture and part handling.
Superior Accuracy and Rigidity
Large, heavy workpieces oftentimes cause beam deflection to occur in traditional trunnion tables, which can result in inaccurate part positioning. The T1 removes this issue with its B-axis rotary table and robust bed casting to support the load stresses from large, heavy workpieces. Additionally, its unique A/B rotary axis configuration eliminates shifting mass deflections caused by tilting the workpiece, ensuring consistent accuracy regardless of rotary axis position.
For the premium aerospace job shop, the ability to respond to a wide range of workpiece materials should not mean multiple, partially utilized machining centers or compromised spindle performance. The T1 has been specifically developed with a unique direct-drive spindle capable of high-performance operation in a wide variety of materials. The T1 spindle is ready for the challenges of titanium and nickel-based alloys with 1,000 Nm (737 ft-lbs) of torque that is available from 20 rpm all the way to 1,000 rpm. Extending the high torque levels out to 1,000 rpm ensures that the T1 is ready to take advantage of future hard-metal tooling developments. The T1 is equally competent in aluminum with a top spindle speed of 12,000 rpm. Continuous power of 56 kW (75 HP) is maintained from 1,000 rpm to the maximum 12,000-rpm level. The T1 spindle uses the HSK-A100 spindle interface for superior rigidity and accuracy.
Want more information? Click below.