Innovative System Dramatically Reduces Time Required for Tool Changeover on Tube Bending Machines
Tube bending and endforming technology specialists, AddisonMckee, has designed a new innovative quick-change tool system that drastically reduces the man power and time required for tooling changeover on tube bending machines. With the AddisonMckee quick-change tool system, "part to part" tool changes with either single or multi-stack tooling can be accomplished by one person in less than 10 minutes.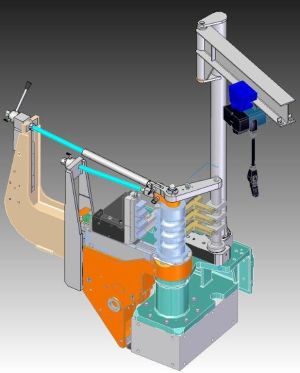 AddisonMckee has developed and proven this technology through concept alterations to key aspects of the tube bending machine and tooling.
Bend Die Lift Plate
This system holds the bend die and wiper posts together as a set by a lifting plate which negates the need for wiper or bracket adjustments during tooling change-overs.
Additionally, because the bend die and wiper posts are retained as a pair the wiper inserts are much less susceptible to accidental damage. The lift plate includes a single hook for removing the bend die and wiper post together via a small crane mounted to the tube bending machine. An automatic clamp unit quickly locks the bend die and wiper posts to the machine without any additional tools or fasteners.
Tie Bar System
The new AddisonMckee tie-bar system incorporates a cam-action release which ensures minimum operator setup time between tool changes. A quick release tie-bar pin provides for effective tie-bar retraction, without the need to remove the tie-bar from the machine, and allowing for the tie-bar to slide away for quick access to the tool set.
Other Features
Other features of the quick-change tool system includes a quick release clamp and follower that are also removed and replaced from the machine using a lifting hook, or by hand as preferred for fastest change-over times. The tube collet change-overs are also quick and no fasteners or tools. Additionally, wheeled trolley carts are included with this system for storing and protecting the bend tool sets not currently in use on the tube bending machine.
Presently the quick change tool system is available on new or existing AddisonMckee DB75 ESRB or eB80 ESRB tube bending machines and tool sets.
Want more information? Click below.
Copyright © 2020 by Nelson Publishing, Inc. All rights reserved. Reproduction Prohibited.
View our terms of use and
privacy policy