Machine Shop's Business Surges Simply By Tapping Into Solid Values
G&G Machine, a precision CNC and weld shop in Wisconsin, applies core values, lean philosophy, and a new tap line to realize a major savings in time and tool inventory.
Most people know deep down that if their values and work ethic are strong, and if they can cut away waste and work smarter, they will ultimately prevail and prosper. These beliefs are the core philosophy of G&G Machine. And their cavernous new 30,000 sq. ft. plant in Kaukauna, WI, built during the great recession and fueled by their surging business, is testimony to this belief and the fruits of their labor.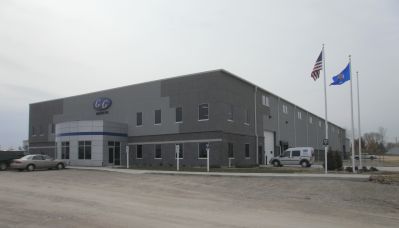 G&G Machine's new 30,000 sq. ft. plant in Kaukauna, Wisconsin
Here you will find that whether it's instituting a company-wide lean program, or analyzing how to reduce tool costs and improve tapping operations, these time-tested tenets consistently pay off.
G&G Machine is a precision CNC machine shop and an ASME/AWS certified weld shop. Founded in 1984, G&G Machine has over 40 employees and a unique core ideology, which is etched into a steel plaque at the plant.
Being a job shop, G&G serves many different market segments, each with their various materials requests. G&G typically sees many different applications for metals ranging from the common such as carbon steel, aluminum, brass and bronze, to the exotic including titanium, hastelloy, waspaloy, Zeron 100, monel, and super alloys. Some of these materials are quite expensive and cannot be easily welded, so breaking a tap or any tool in them is not an option.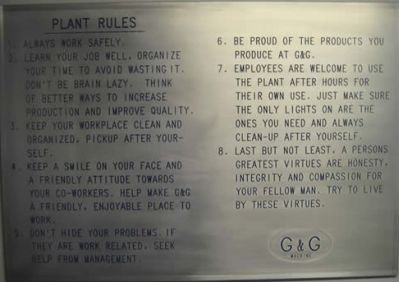 G&G Machine's golden rule, a machined steel plaque erected in their plant, reminds employees on their guiding principles.
G&G manufactures parts for the oil and gas industry, food processing, power transmission, petrochemical, railroad, electric motor service, paper industry, heavy construction, and sub-sea equipment. G&G's work is routinely to high accuracies -- tenths and below.
Some customers demand many different levels of inspection and materials traceability. When machining parts for sub-sea applications, they are expected to obtain materials traceability, CMM inspection, LPI, MPI, UT inspection and X-ray.
"G&G's state of the art equipment and highly dedicated machinists and welders allow us to maintain tight tolerances in difficult materials. Oil & gas components that we've been manufacturing for over 20 years, such as pumps, valves and high rotating parts, are used by Fortune 500 customers and end-users around the world," said Mark Stumpf, President of G&G Machine. "About 50 percent of our work is in the Energy industry," added Chris Weaver, Value Stream Manager, New Business Development, at G&G. "Lately we've done work for a compressor company servicing the energy world. We're doing a lot of complex parts such as impellers."
Commitment to Continuous Improvement
In 2007, G&G Machine intensified a continuous improvement journey when they realized they were out of space. Rather than build, they consulted the Wisconsin Manufacturer's Extension Partnership (WMEP) to see if perhaps they needed a new plant layout.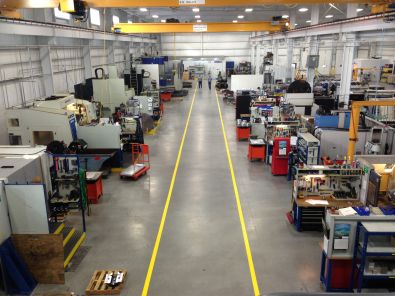 G&G Machine's new plant houses three multi-Axis lathes, five 2-Axis lathes, three HMC's, four VMC's, one Zeiss G2 CMM and a clean room.
WMEP explained how they could help G&G not only with a new plant layout, but also with Lean Manufacturing and 5S Workplace Organization. "After all the analysis, we discovered 150 tons of material we didn't need, found room to add a weld shop and install larger, more efficient machines in space we didn't know we had," explained Stumpf.
Once G&G made it past the initial 5S push, they had a realization that if 5S had this big of an impact on G&G, how much more could they improve by implementing other Lean tools? "We wanted to see just how much we could wring out of our current shop before building a new one," said Stumpf.
G&G conducted Value Stream Maps (VSM) on two product families producing a list of improvement ideas, and resulting in about a 50 percent reduction in lead-time and a similar reduction in Work in Process (WIP) inventory. G&G also implemented Overall Equipment Effectiveness measures. "If spindles aren't turning, we aren't making money," commented Stumpf.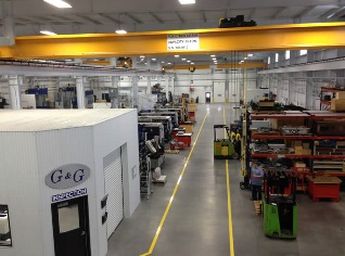 G&G Machine manufactures parts for a variety of industries, including oil and gas, heavy construction, sub-sea equipment, and more.
Adopting a Lean philosophy also yielded other changes, including a new Vendor Managed Inventory Auto Crib System. "The tooling dispenser unit eliminates the need for multiple people to manage tooling," explained G&G's Tooling Supervisor, John Fiers. "It also saves time and money on stocking and restocking tools."
It took two years to implement Lean Strategy which, combined with the shop's continuous growth, finally led to the construction of a new building with many new efficiencies.
G&G's new 30,000 sq.ft. manufacturing facility houses three multi-Axis lathes, five 2-Axis lathes, three HMC's, four VMC's, one Zeiss G2 CMM and a clean room. "We also created an in-house weld shop for convenience, maintenance, weldments and other parts. It's a big bonus to have it," stated Stumpf.
New Taps Save Time and Money
Part of G&G's commitment to continuous improvement included taking a look at their overall tooling strategy. After careful analysis, one of G&G's tooling goals was to find a tap or thread mill that could stand up to many applications from the basics to exotic alloys, so that they could decrease their tooling inventory and vendors, and save time on tooling changeovers as well.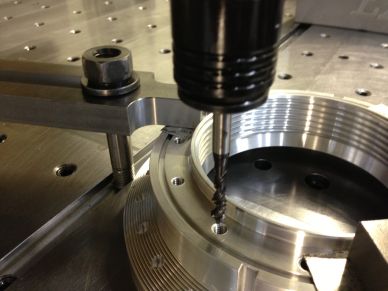 MultiTAP from Emuge Corp. threading a hole in an aluminum seal.
G&G was using many different taps for a wide range of applications. It was difficult to train machinists to know which tap was best for a given application. Often, taps were failing. A failed tap means machine down time, scrapped parts, rework and a lot of frustration, all of which costs time and money.
"When we first tried Emuge tools, we were impressed by the feeds and speeds recommended. However, we wanted to be sure there were no issues with tap breakage which we had experienced before on other brands of taps," explained Weaver. "Then we tested a few different Emuge taps, including MultiTAP™, over a couple of months and had great results. Our tests showed Emuge taps were superior to other taps. We noticed less down time, no rework and no broken taps. Being able to run the taps faster with less tap replacement has provided a significant cost savings," Weaver continued. "I cringe whenever I recall the time we drilled a hole 1/16 in. undersize and went to thread it with a MultiTAP. But much to our amazement, the tap held up fine without breakage."
"We selected Emuge taps for their performance, quality, cost savings and support. Emuge was also willing to train our employees on their product and did a great job in doing so," noted Fiers. "Today, 95 percent of our taps and thread mills are Emuge, from a 4-40 up to 1.5". The majority of our taps are MultiTAP's; the quality is there and the pricing is good. And with MultiTAP, we can handle a broader range of applications with a single tap."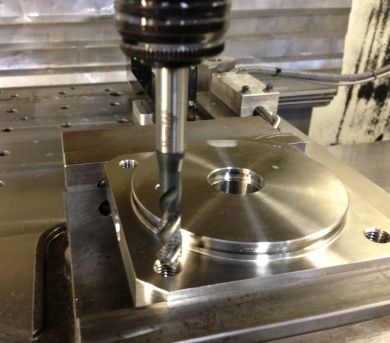 MultiTAP from Emuge Corp. threading a hole in 316 SS.
Emuge's MultiTAP is the industry's first general purpose, high performance tap. MultiTAP will cut a wide range of materials including carbon steel, steel alloys, stainless steel, aluminum, cast iron, copper, brass, and bronze. MultiTAP is also uniquely designed to produce threads within both 2B and 3B classes of fit.
MultiTAP is the ideal tap for a job shop or a manufacturer who works with short and medium run threading applications across a wide spectrum of materials. It will significantly improve thread quality and boost output while reducing production costs, because one high performance MultiTAP will handle most common materials and applications. MultiTAP also eliminates the need to stock numerous types of taps in the tool crib.
Tapping In Sync with Core Ideology
G&G Machine used to require certain taps for specific applications and spent a lot of time and money managing tool inventory. Once they moved to MultiTAP, they were able to save on the number of taps they stocked because each MultiTAP does the work of several other taps. "We have seen a 20 percent cost reduction in taps from using MultiTAP's," said Stumpf.
"We are using Emuge tools mostly for tapping. We have found Emuge taps to be the best tap we have used yet. They rarely, if ever fail. Also, Emuge thread mills are great tools for blind holes, as we do not have to go back and hand tap the hole to depth," stated Fiers.
As G&G strives to perpetuate their core ideology and lean practices, using Emuge taps and cutting tools is precisely on target with their mission to efficiently and proudly produce the highest quality products. "And when employees produce high quality work, pride, satisfaction and profitability surely follows," said Stumpf.
Want more information? Click below.