So What Is Actually In Those Olympic Medals, Anyway?
At Sochi, a record 1,300 medals will be issued for the Winter Olympic and Paralympic games, according to organizers. Each Gold Medal will contain gold and silver, each Silver Medal will contain silver, and each Bronze Medal will contain bronze produced from copper, tin, and zinc.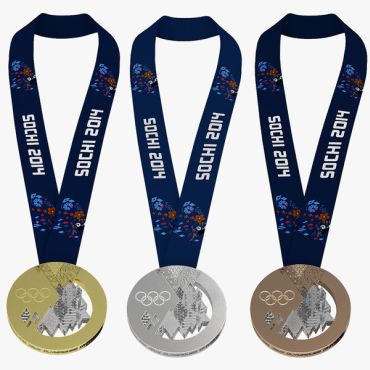 At one time, Olympic gold medals were real solid gold. However, the last time a solid gold medal was awarded was at the 1912 Stockholm Olympics. Modern Olympic gold medals are sterling silver that have been plated with real solid gold.
The National Olympic Committee (NOC) allows quite a lot of leeway in the production and design of Olympic medals, but there are some rules and regulations that they impose. Here are the rules for gold medals:
The gold medal is at least 60 mm in diameter.
Each Olympic gold medal is at least 3 mm thick.
A gold medal mainly consists of silver, which must be at least .925 grade (Sterling silver).
Each gold medal is covered with at least 6 grams of pure genuine gold.
The name of the Olympic sport is written on the medal.
The host city is responsible for minting the Olympic medals.

The gold medal has not always been the prize for winning an Olympic event. Back in the day -- way back in the day -- Olympic champions were crowned with wreaths of olive leaves following their victories. The prize is believed to have been introduced by Heracles as the award for winning the running race to honor the god Zeus. Fast-forward to the modern games, and the winners get medals for their efforts. At the first Olympic Games in Athens in 1896, top placers received silver medals since, at the time, silver was coveted more than gold. Second place competitors got copper medals.

Gold medals were first introduced in 1904 at the St. Louis Games, although it wasn't until London hosted in 1908 that the medals were awarded in the order so familiar today. Even so, the famous medal ceremony usually involved pinning on the prize, rather than plunking it around winners' necks. At the 1960 Rome Games, the medals were affixed to chains; following that, ribbons were typically the standard.

Whether beribboned, chained or pinned, there's never been a set standard of what an Olympic medal should look like. Some design requirements have existed, true, but where composition is concerned, there has been a lot of variation over the years, plus differences in heft, size, shape or even material. In 1896, first-place athletes received medals that were not only silver, but 48 millimeters in diameter, 3.8 millimeters thick and weighed in at 47 grams. In Paris four years later, the medals were rectangular, 59 millimeters by 41 millimeters and weighed 53 grams. The next games, held in St. Louis, scaled things back a bit with a circular cookie cutter model that hit the scales at a mere 21 grams. Apart from those 1900 Paris Games, all athletes of the Summer Olympics have received round medals. The Winter Games have usually featured circular medals, too, although there have been some exceptions.

Want more information? Click below.
Copyright © 2020 by Nelson Publishing, Inc. All rights reserved. Reproduction Prohibited.
View our terms of use and
privacy policy