Unique Formula in High-Performance Machining Fluids Improves Efficiency for Aerospace, Heavy Equipment Industries
5ME's CYCLO COOL® 900 series synthetic metal machining fluids utilize a unique, near-neutral pH formula developed to meet heavy-duty, high-heat machining requirements at a lower cost than semi-synthetics and soluble oils. The additive-free, low-foaming fluids are specially formulated for machining titanium, Inconel®, beryllium copper, hardened steels, stainless steels, and other exotic alloys.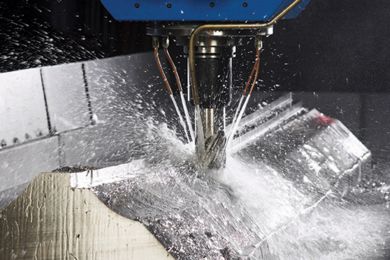 The cationic-based synthetic coolants contain specialized boundary lubricants that penetrate the cut zone heat barrier, even at lower fluid pressures (300 to 400 psi), to absorb heat from the tool and the part, minimizing tool-tip work hardening and premature wear.
Free of biocides/fungicides and aggressive pH adjusters, they provide increased sump life and environmental friendliness when replacing high-maintenance, chlorinated, semi-synthetics and soluble oils in all metal removal operations. "These high-performance, low-cost traits are driving efficiency improvements in the aerospace and heavy equipment industries," said Pete Tecos, Executive VP Marketing and Product Strategy for 5ME.
CYCLO COOL 900 series fluids are designed for high-pressure, low foaming, through-tool delivery systems at 2000 psi, as well as flood coolant for chip flushing. The lubrication package in CYCLO COOL 900 varies to cover a wide range of applications from light-duty, high-speed (10,000 to 15,000 rpm) aluminum milling to heavy-duty drilling and tapping of hardened steel and hard-to-machine metals. The three formulations, CYCLO COOL 900, 910, and 920 are engineered to match the intensity of the application.
Want more information? Click below.
Copyright © 2020 by Nelson Publishing, Inc. All rights reserved. Reproduction Prohibited.
View our terms of use and
privacy policy