Winning 3D Car Design Beats Out More Than 200 Other Entries; Will Inspire the Full-Size Prototype Vehicle to be Printed Live at IMTS
Local Motors, Inc. has announced the winners of the first 3D Printed Car Design Challenge that was launched in April to uncover concepts that will inform and influence the vehicle that will be printed live at IMTS. More than 200 entries, representing submissions from 30+ countries around the globe, were submitted during the six-week challenge. After a weeklong voting period and review of all entries by an independent panel of expert judges, a total of seven designs were selected as winning concepts.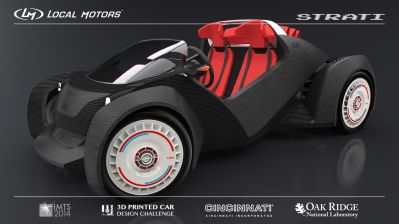 The winning concept, Strati, created by Michele Anoé of Italy, will highly inspire the full-size 3D printed prototype. "It's simple and clean, with character," says challenge judge and MakerBot CEO Bre Pettis. "It has a nice style that really hangs together." Lonnie Love, Group Leader, Robotics and Manufacturing Systems Research at Oak Ridge National Laboratory, adds, "Michele's design offers an excellent balance between innovation, complexity and practicality. It has good 3D lines and the retractable roof is really cool."
Michele will receive a $5,000 cash award for his submission and will be invited to see his concept manufactured live in AMT's Emerging Technology Center, Booth N-650, at the IMTS Show this September.
"There are three major challenges facing the auto industry today; part count, weight, and the initial cost of tooling when creating and iterating on vehicles. The hybrid Direct Digital Manufacturing process stands to address all three of these," said Jay Rogers, Local Motors CEO. "When these hurdles are removed, we open the door to an exciting new era in automotive design and manufacturing possibilities."
Six additional concepts were recognized for their innovation and popularity among the members of Local Motors' global community. Some aspects of these designs may also be incorporated into the final prototype. The designers of each of these concepts will receive a $1,000 cash award from Local Motors.
For more information and to see Winner's Announcement Video, click below.