Industrial Vacuum Cleaner Sucks Up 1-2 Gallons of Liquid Per Second
The VAC-U-MAX Model TK-01 is a unique industrial vacuum cleaner designed for high-speed transfer of various liquids directly into a closed top 55-gallon drum.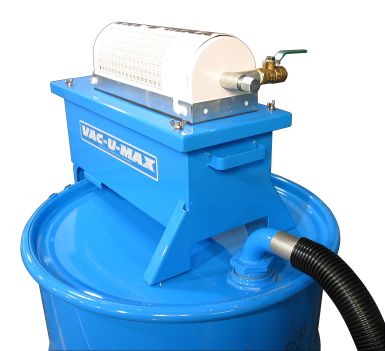 The TK-01 operates on plant compressed air and provides high suction that offers recovery rates at better than one-gallon per second. These units are compact and fit directly on the holes of a closed top, vacuum tight, 55-gallon drum. This unit also features the lowest compressed air consumption on the market today, only 35 SCFM @ 60 PSIG.
TK-01 units can be used for coolant, cleaning out sumps, tanks, machine sludge, or any other viscous matter that must be disposed of in a 55-gallon drum. These unique vacuum cleaning systems eliminate any messy transfer by vacuuming the material directly into the drum. It also includes an Auto Vac cutoff, which prevents the operator from overfilling the drum.
Want more information? Click below.
Copyright © 2020 by Nelson Publishing, Inc. All rights reserved. Reproduction Prohibited.
View our terms of use and
privacy policy