Quick Change Vise Jaw System's Innovative Design Eliminates Cumbersome Cap Screws
The CARVEsmart™ quick change vise jaw system is designed for production and tool-room applications replacing the often cumbersome, conventional method of attaching vise jaws to a vise using face mounted cap screws.
The patented CARVEsmart system employs three, from the top, channeled clamping elements and a dovetailed jaw design to couple the master jaw and soft or hard jaws. CARVEsmart dramatically reduces set-up time, improves set-up reliability and quality. CARVEsmart's dovetailed aluminum extruded bar stock makes the soft jaw an inexpensive cut to length tool that can be reused or quickly re-cut with each part run. This makes the CARVEsmart system ideal for shops running repeating and tight tolerance work.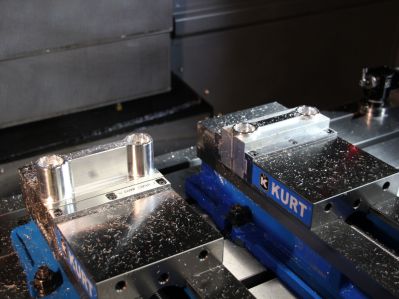 Face mounted cap screws are problematic since they are located in a vise's sweet spot. They extend into the workholding zone forcing work to be held in front of or above the cap screws. The CARVEsmart dovetailed jaw provides a larger machinable workholding zone that permits holding parts deeper and more securely into the jaws of the vise providing less jaw lift and more secure clamping.
Front- or side-loading of the soft jaws is fast and simple using a T-handled hex wrench to loosen three channeled clamping elements accessed from the top of each master jaw. By designing the clamping mechanism on the top, it is not necessary to open the vise to access the cap screws.
Differential screws pull the channeled clamps, providing downward pressure to secure a jaw in place. The operator can quickly change the soft jaw from the front or side with the entire changeover taking 40 to 60 seconds each. This means when setting up an eight station quad with 16 jaws, all of the jaws can be replaced in less than 12 minutes.
When reusing once carved jaws, reinstalled in to the original master jaw, and a vise that has not moved, using a straight edge or side stop, expect repeatability within .001. The alternative is using the original pre-cut program and a resident tool to re-cut the original female forms in new jaws in minutes. That quad can be in service in a half hour versus a half day and each station will be as perfect to the spindle as the first run. Saving the jaw prep program, not a once used jaw is often faster and more accurate than reusing once used jaws.
Another significant benefit to the CARVEsmart system is the extruded aluminum soft jaw blanks available in a variety of sizes. Small parts can use jaws as short as 1 inch of CARVEsmart extruded barstock. This means four, 1 inch jaws mounted in to a 6 inch vise now holds two small parts with $5 of jaw material.
Want more information? Click below.