New Oil-Resistant Keyboard Stands Up to Nitty-Gritty Machine Shop Environments
For years, oil has been the biggest "keyboard killer" of them all. Now Man & Machine, known for its American Made waterproof keyboards for medical and public safety applications, announces the first oil-resistant silicone keyboard. The Really O'Cool is a sealed, waterproof, oil-proof, dirt- proof keyboard tough enough to stand up to the nitty-gritty industrial world.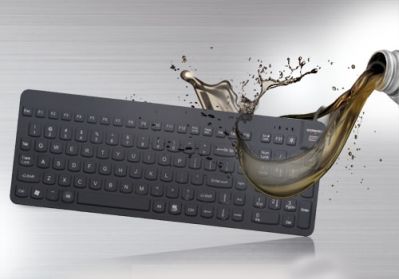 The Really O'Cool ("ROC") was recently introduced at IMTS. Manufactured in the same fashion as the highly successful ReallyCool, the "O" is for "oil-resistant". This keyboard is great for machine shops, production lines, part manufacturers, and any place where oils, dirt or water is a problem. Man & Machine offers optional features such as backlight keys for use in low-light conditions, MAGFIX attachment system for ferrous surfaces, and various lengths USB cables options. Private labeling for OEM applications is also available.
Man & Machine CEO, Clifton Broumand, commented that industrial customers have had to replace keyboards often because oils were destroying them, costing them a lot of money and production time. "They were practically begging us for an oil resistant keyboard. Two years ago I wasn't sure that it was possible. Our engineers worked on a solution for over a year. We are very proud to present a really cool keyboard, the Really O'Cool."
Want more information? Click below.
Copyright © 2020 by Nelson Publishing, Inc. All rights reserved. Reproduction Prohibited.
View our terms of use and
privacy policy