New Grinder Machines a 4-Cylinder Crankshaft in Less Than 2 Minutes
Prospects for the international automotive industry are promising, with expected growth in the coming years supported by growing demand in the Asian markets. Competition continues to increase, especially from Asian companies. In addition, more rigorous national emission limits and safety requirements lead to an increase in production costs, causing planners to review their manufacturing technologies for potential savings.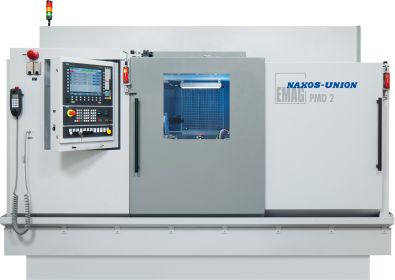 Compact design: The enclosure also contains the electrical cabinet and the energy container. Equipping the machine with an automatic loading system is no problem.
EMAG experts, who have decades of experience building precision machine tools, also develop tailor-made grinding solutions for shaft-type components. Their new PMD 2 machine complements this crankshaft grinder know-how.
It is designed for the machining of passenger car crankshafts and features twin grinding heads that allow the simultaneous grinding of two pin or main bearings in a single setup using two grinding wheels. Its capacity covers small components up to 500 mm length.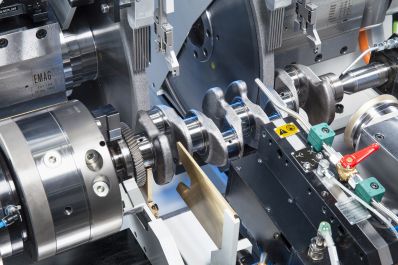 Two grinding wheels are used for the simultaneous machining of two pin bearings, reducing cycle time considerably.
"With this machine we are rounding out our range of crankshaft grinders to include the machining of smaller components," explains Dr Guido Hegener, Managing Director of EMAG Maschinenfabrik GmbH. "Up to now, our range of machines did not include a horizontal twin-head grinder for smaller crankshafts. This gap is now filled with the PMD 2, a machine with an excellent price-performance ratio ideally suited to combat the increasing competition in the automotive industry."
The basis for the PMD 2 is the established "Series 2" from EMAG NAXOS-UNION and EMAG KOPP. These machines combine high-tech grinding technology with precision, great efficiency, process integrity and simple operation. This applies to the PMD 2 as well, where two CBN grinding wheels machine crankshafts to the highest precision. To achieve this, the machine is equipped with a direct-driven workspindle, hydrostatic guideways and a linear motor in the X-axis, as well as an in-process measuring control that allows for roundness monitoring and correction in the machine.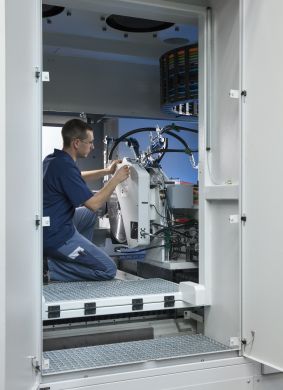 Access to the PMD 2 crankshaft grinder components is exceptionally easy.
"The operator enters the relevant command in the control and the measuring process is carried out once the bearing has been ground. The software, developed by EMAG, then calculates the relevant correction values from the remaining roundness errors. This allows for the subsequent manufacturing processes to be successively optimized," adds Hegener.
The technology also stands out with its simultaneous use of two grinding wheels. The twin-tool process opens up a number of possibilities for the user, depending on component and machining requirements. Two pin bearings or main and pin bearing are machined simultaneously, reducing cycle times.
For instance, a four-cylinder crankshaft is machined in less than two minutes. The grinding wheels can, if required, be arranged very close together so that adjoining pin and main bearings can be machined simultaneously. Both grinding spindles and work headstock are direct-driven, further increasing precision and productivity levels.
Want more information? Click below.