New Tool Enables Quick and Easy Vertical Installation of Blind Threaded Inserts
The new Atlas® RIV949 hydropneumatic tool enables quick and easy installation of blind threaded inserts by eliminating any need to reposition work pieces from their typical horizontal orientation. This innovative tool allows users to install all types of Atlas steel, stainless steel, aluminum, and brass inserts in a wide variety of applications.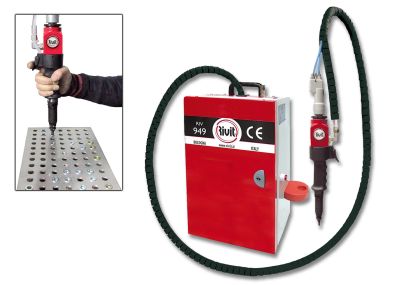 The Atlas RIV949 tool installs blind threaded hardware without requiring access to both sides, making it ideally suited for tubing, extrusion, and similar types of applications. Upon installation, the inserts provide strong and reusable threads to accommodate mating hardware for final component attachment.
The tool is engineered with two different systems of regulation for insert installation -- pull-to-pressure or pull-to-stroke. The pull-to-pressure mode in particular results in more consistent installations, especially in materials that vary in thickness within the grip range of the fastener, and prevents over-installing or double installing of the fastener.
The Atlas RIV949 tool can be equipped with unified or metric nose assemblies for installation of blind threaded inserts M3 to M12 / #4 to ½" or blind threaded studs from M4 to M8 / #8 to 5/16". The tool operates on 90 PSI air pressure and can develop 4721 pounds of pull force.
Want more information? Click below.
Copyright © 2020 by Nelson Publishing, Inc. All rights reserved. Reproduction Prohibited.
View our terms of use and
privacy policy