New All-Electric Tube Hone Combines Servo Precision With Constant Spindle Power for Job-Shop Versatility
Sunnen's new HTR all-electric job-shop tube hone combines servo precision and cycle-automation features with constant spindle power and 0.1 mm (0.004") stroke repeatability to efficiently hone blind bores or correct tight spots in a bore without operator intervention.
Designed and equipped to hone the wide variety of parts encountered in a job shop, the machine handles bore I.D.'s up to 900 mm (35.41"). Its modular design can be configured for stroke lengths from 2.5 m to 14 m (8' to 46.2').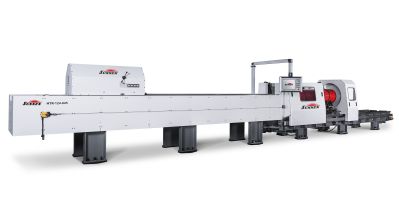 Critical for job-shop versatility and productivity, the HTR's 12 kW (16-hp) spindle motor, combined with a four-step gearbox, produces a constant power band through the entire speed range of 10-470 rpm for fast metal removal. The standard servo rotary tool feed can also function as a push-feed system with an optional drive shaft that converts rotary to linear motion, allowing the machine to handle the full range of Sunnen heavy-duty and two-stage tools.
Tool overload monitoring ensures optimal stock removal rates, while protecting the tool and workpiece. Precision stroke position and repeatability are ensured with a servo rack-and-pinion stroking system. It drives the spindle carriage at speeds of 0.1 to 48 m/min (4" to 157' per minute) on hardened and ground ways with a 10.2 kW (13.6 hp) servomotor, giving the machine plenty of power to handle superabrasives for fast material removal.
The HTR's design eliminates all hydraulics to vastly reduce maintenance, noise, leakage and heat, as well as system hysteresis due to hydraulic oil heating up. The machine's 305-mm (12") Windows® touchscreen PC control manages all machine functions, including stroke speed/position, tool feed, spindle speed, stone wear compensation and cutting pressure.
Standard control features include size lock, automatic bore geometry correction, recommended setups, tool overload protection, spark out, spindle jog and short stroke. The control can store up to 900 different part programs and be configured for 13 languages.
Want more information? Click below.