Hydraulic Leveler is the Master of Flatness
A New York job shop, Architectural Grille, has found that ARKU's FlatMaster 55 is in a class by itself when it comes to the leveler's versatility in short runs of appearance-critical parts in different materials, sizes, thicknesses, and shapes.
All levelers are not alike, and Brooklyn, New York's Architectural Grille gained an appreciation for the automatic leveling gap control and easy cleaning features unique to ARKU's FlatMaster, after using another hydraulic leveler for a number of years.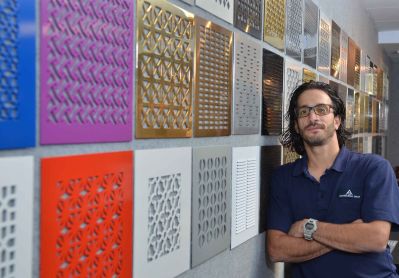 Stephen Giumenta, vice president of Architectural Grille, with a range of the company's products in various metals and finishes. An ARKU FlatMaster leveler is key to achieving a flat part following water jet cutting, laser cutting or punching.
Architectural Grille specializes in custom grille manufacturing for residential, commercial, hospitality, medical, architectural/decorative and education markets. The 40-person shop uses advanced technology to produce custom designs in high volume or quantities as small as one -- cost efficiently in New York City. Materials include various metals in thicknesses from 0.062" to 0.375".
After using another hydraulic leveler for a number years, the company purchased a FlatMaster 55 in early 2014 and found it in a class by itself, says company Vice President and Engineering Manager Stephen Giumenta.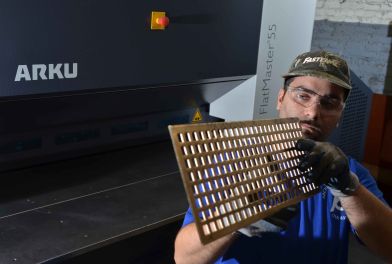 Leveler operator Michael Faria checks a brass part processed on the ARKU FlatMaster 55 t Architectural Grille.
"We throw everything at the machine, and it usually takes just one pass to get the parts flat," he says. "Parts may be aluminum, stainless steel, mild steel, brass, bronze and copper. Different shapes, sizes, thickness, often heavily perforated with openings cut by laser, waterjet and punch."
"Leveler is No-Brainer to Run"
Servo-hydraulic control of the leveling gap allows the FlatMaster to level this variety by adapting its performance to the nature of the part, whether the leveling rollers encounter the tip of a triangular part or the full cross-section.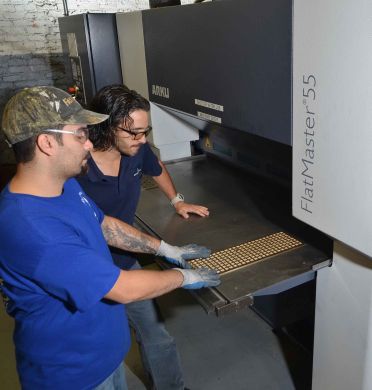 Architectural Grille Vice President Stephen Giumenta (right) observes as leveler operator Michael Faria feeds a part into the ARKU FlatMaster.
As the part enters the leveling rollers, the FlatMaster can recognize any change in the required leveling force in a fraction of a second and apply more or less force to maintain a correct gap throughout the leveling section. "The machine is a no-brainer to run," says Giumenta. "You set the material thickness, put in a distorted part, and it comes out flat. We had it installed and began training on it in one day, and we were running parts the next day."
Blemishes caused by dirty leveling rollers were another issue with Architectural Grille's earlier machine because it was extremely difficult to clean. "We had to bring in a rigger to tear down the machine so we could get at the roller section," Giumenta says. "If a machine is difficult to maintain, it won't get much maintenance. Blemishes on our parts require additional processing, so we clean the leveling rollers regularly. With the FlatMaster, one person can remove and clean the rollers in a few minutes."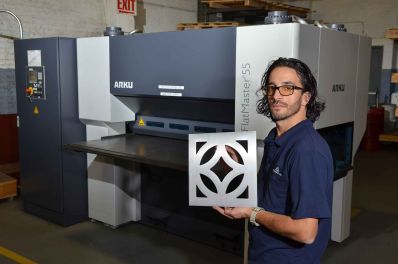 Architectural Grille Vice President Stephen Giumenta says the ARKU leveler is easy to clean, which is critical for ensuring a blemish free surface on parts his company produces.
He adds that the machine is also electrically efficient and quiet. "The noise is so low you can't tell it's running."
Architectural Grille's part volume keeps the leveler busy about five hours a day. The excess capacity allows the company to solicit contract leveling from fabricators in the region. "A leveler of this caliber is an unusual asset to have in a smaller fab shop, so shops in our area are starting to take advantage."
Want more information? Click below.