New Unilock Chucks Automate Part Loading
The worlds of workholding and automation collide with the addition of Unilock's new ESA 120/70 automation chuck.
Unilock is known for reducing setup and changeover costs, but until now, the standard knob program was limited when it came to automation. The new automation chuck series changes that by allowing for an intelligent interface and communication back to the controller using the standard Unilock knobs that thousands of customers already have implemented.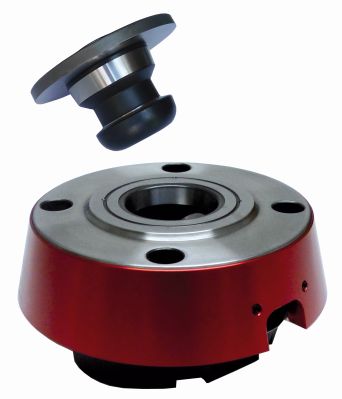 Table integration of the ESA 120/70 chucks allows robots to pick and place fixtured workpieces into the machine. The system checks for workpiece presence, proper orientation and clamping, and then communicates back to the controller when the workpiece is in place and ready to be machined. On the flipside, when a part is finished and removed from the work envelope, the machine knows nothing is loaded and will not allow a new cycle to start until a new component is properly in place.
Of course cleanliness of mating surfaces is of upmost concern during automated loading. The top surface of the ESA 120/70 has self cleaning capability through an air blast originating off the chuck's contact surface as the workpiece nears. Additionally, a slot was designed through the chuck that allows coolant or chips to flow out of the center clamping area and away from the precision locating features. For increased retention forces, the turbo assist feature boosts the clamping force to a max 1,870 lbs, compared to the max 660 lbs without it.
As typically seen with most chucks that utilize the standard Unilock knobs, the system has an impressive locating repeatability of .0002" and a holding force of 11,240 lb.
The Unilock system is a comprehensive positioning and clamping system that can be applied to almost any manufacturing or assembly process for a boost in productivity, bringing customers higher efficiency and agility. By automating the system, customers can achieve even higher levels of productivity without the need for constant human intervention.
Want more information? Click below.
Copyright © 2020 by Nelson Publishing, Inc. All rights reserved. Reproduction Prohibited.
View our terms of use and
privacy policy